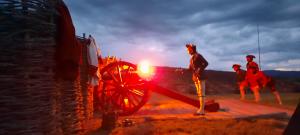 Join Fort Ticonderoga July 23-24 for this NEW epic event, including a thrilling nighttime battle
Ticonderoga, NY -- Fort Ticonderoga presents "1759 Siege of Carillon," a NEW exciting two-day battle reenactment July 23-24. Through a combination of demonstrations, vignettes, narrated boat cruises, and battle reenactments, visitors will experience the British advance for Lake George. Become immersed in this 18th-century siege; featuring the constant roar of cannon, thrilling battle reenactments, and even a nighttime program where visitors are immersed in the battle for Carillon, named Ticonderoga by the British once they capture the fort from the French. The Battle Reenactment will take place all weekend and is included as part of daily admission. Tickets can be purchased at www.fortticonderoga.org or at the gate. The nighttime siege reenactment requires an additional advanced ticket and has limited capacity.
The Calm Before the Storm, Saturday, July 23
Step into Fort Carillon on July 23, 1759 and discover why the French chose to make their stand here on Lake Champlain. Visitors will discover General Jeffrey Amherst's plan to prevent the mistakes of 1758 as he advanced towards Ticonderoga with his 11,000-man army of British and American provincial soldiers. Watch as British regulars, American provincials, rangers, and Native American warriors push from Lake George to capture the Heights of Carillon. See how French soldiers trade ground for time, as they carefully stall the British advance in preparation to defend Fort Carillon.
The Roar of the French Fort!
During a dramatic evening program on Saturday, July 23, the twilight will be ablaze with gunfire as visitors experience the 1759 Siege of Carillon based on original eyewitness accounts on both sides of the lines. See the British and American provincial soldiers continue to dig their cannon batteries and guard their position even as mortar bombs fall along with the darkness. Tour the battlelines that surrounds Fort Carillon, as French artillery fires from new positions arrayed strategically against the British.
Gates open at 7 p.m. (last ticket sold at 7:45 p.m.) and the reenactment will begin at 8 p.m. A Battle Briefing Tour at 7:30 p.m. will show you where these events actually happened inside Fort Ticonderoga on July 23, 1759. Tickets are limited and are encouraged to be purchased online in advance.
The Aftermath, Sunday, July 24
Explore the last days of Fort Carillon, as the French prepared to evacuate, even as they continued to fire at the encircling British. French soldiers sortie out from Fort Carillon one last time to disrupt British progress on their entrenchments and cannon batteries. After initially faltering from the surprise, British and American provincial soldiers regain their position and the work of the siege continues. Get the rare sight of the French evacuating by bateau on Lake Champlain.
Fort Ticonderoga and Mount Defiance are open for visitation Tuesday-Sunday through October 30, 2022 from 9:30 a.m. until 5 p.m. (last entry 4:30 p.m.). Tickets can be purchased in advance by visiting www.fortticonderoga.org.
About Fort Ticonderoga:
Welcoming visitors since 1909, Fort Ticonderoga preserves North America's largest 18th-century artillery collection, 2,000 acres of historic landscape on Lake Champlain, and Carillon Battlefield, and the largest series of untouched Revolutionary War era earthworks surviving in America. As a multi-day destination and the premier place to learn more about our nation's earliest years and America's military heritage, Fort Ticonderoga engages more than 75,000 visitors each year with an economic impact of more than $12 million annually and offers programs, historic interpretation, boat cruises, tours, demonstrations, and exhibits throughout the year, and is open for daily visitation May through October. Tickets are buy-one-day get the next day FREE.  Fort Ticonderoga is supported in part through generous donations and with some general operating support made possible by the New York State Council on the Arts. © The Fort Ticonderoga Association. 2022 All Rights Reserved.
Photo: Fort Ticonderoga Features NEW 2-day Battle Reenactment exploring the 1759 Siege of Carillon, July 23-24, 2022
For Further Information Contact:
Beth Hill - 518-585-2821