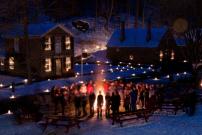 Cooperstown, N.Y.
- You're invited to one of the Central New York region's best-loved holiday traditions,
Candlelight Evening
, to be held Saturday, December 8, from 3:00 to 7:00 p.m. at The Farmers' Museum in Cooperstown.   During
Candlelight Evening
, the landscape of the museum takes on a magical appearance, decorated in greenery and illuminated by hundreds of candles. Visitors can ride through the museum's grounds in wagons pulled by draft horses adorned with harness bells. Complimentary wassail, warmed in kettles over open fires, is served throughout the afternoon and evening. An array of seasonal musical programs take place at the Cornwallville Church, featuring holiday music from centuries ago and also some recent favorites. Join in caroling in the midst of candle-lit historic buildings! Visit with Saint Nicholas. Children can also take part in holiday arts and crafts activities, and riding the Empire State Carousel has a special delight in December. Warm up with something hot from our delicious food and drink offerings at the Crossroads Café next to old Bump Tavern. Admission is $12 for adults; $10.50 for seniors; and $6.00 for children ages 7-12. Members and children under 6 years of age receive free admission.  Visit FarmersMuseum.org for a complete schedule of the evening's activities. Candlelight Evening is sponsored in part by NBT Bank, Haggerty Ace Hardware, and Cathedral Candle Company. A visit to the Museum this holiday season is not complete without a stop at The Farmers' Museum Store and Todd's General Store, where a large selection of handcrafted items from the museum are available as well as other seasonal favorites.
Candlelight Evening
visitors should dress warmly and wear boots.  Please visit our website for updated parking and shuttle information.  Visit FarmersMuseum.org or call (607) 547-1450.
Candlelight Evening
Saturday, December 8, 2012
Admission: $12 adults, $10.50 visitors age 65 & over, $6 children age 7-12, free for children 6 & under and members of the New York State Historical Association.
###
Image Link:  https://www.yousendit.com/download/WUJiQ1ZndWN0d0VLSk5Vag
Captions:
santa_1 copy.JPG: Saint Nicholas will greet children young and old at The Farmers' Museum's annual Candlelight Evening - Saturday, December 8.
people_1 copy.jpg: Visitors enjoy the magic of last year's Candlelight Evening in the Historic Village of The Farmers' Museum.
About The Farmers' Museum
As one of the oldest rural life museums in the country, The Farmers' Museum in Cooperstown, New York, provides visitors with a unique opportunity to experience 19th-century rural and village life first-hand through authentic demonstrations and interpretative exhibits. The museum, founded in 1943, comprises a Colonial Revival stone barn listed on the National Register for Historic Places, a recreated historic village circa 1845, the Empire State Carousel, and a working farmstead. Through its 19th-century village and farm, the museum preserves important examples of upstate New York architecture, early agricultural tools and equipment, and heritage livestock. The Farmers' Museum's outstanding collection of more than 23,000 items encompasses significant historic objects ranging from butter molds to carriages, and hand planes to plows. The museum also presents a broad range of interactive educational programs for school groups, families, and adults that explore and preserve the rich agricultural history of the region.
For more information or images, please contact:
Todd Kenyon, Public Relations New York State Historical Association Fenimore Art Museum/The Farmers' Museum Phone: (607) 547-1472 / E-mail:
t.kenyon@nysha.org