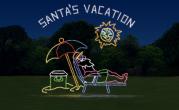 Albany, N.Y.
-- Albany's historic Washington Park is transformed into a world reflecting "The Magic of the Season" for the 14
th
Annual Hannaford Capital Holiday Lights. This year's winter wonderland of lights is open from Nov. 26 through Jan. 2.  Gates open at 6 p.m. daily and remain open until 9 p.m. Sunday through Thursday and until 10 p.m. on Friday and Saturday. Since it began, the show has welcomed more than 1 million visitors to a wondrous world with thousands and thousands of lights. Sponsored by Mayor Gerald D. Jennings and the City of Albany, Albany PAL and presented by Hannaford Supermarkets, this year's show is, of course, magical.
See Santa on vacation -- playing golf and volleyball, water skiing, and even riding a Harley.
Watch Santa and his elves at work in Toyland, getting toys ready for good girls and boys.
Visit with America's heroes -- police, firefighters and others who contribute to the welfare of all.
Experience a Victorian holiday with shoppers strolling to stores, chestnuts roasting and much more as we travel back in time.
And, take a trip around the world with the message of Peace given in many languages with a glimpse of how the holidays are celebrated in faraway places.
"With more than 125 illuminated displays, plus the park's Lake House changed into Santa's Workshop, Hannaford Capital Holiday Lights is a magical world for kids of every age," said Albany PAL Executive Director Sgt. (Ret.) Lenny Ricchiuti. And what is the magical result of the generosity of the community that supports Hannaford Capital Holiday Lights?  "Albany PAL now serves well over 3,000 children each year -- up from 400 children when the show began," Sgt. Ricchiuti said. Admission prices are $15 per car; $25 per limousine or 15-passenger van; and $75 per bus, with all proceeds benefiting the youth programs of Albany PAL. Discounted tickets are available for $10 at Hannaford Supermarkets for admission on Monday, Tuesday and Wednesday evenings. A $5 discount is offered on Monday, Tuesdays and Wednesdays as well for those showing their Times Union SourceCard. Only one discount per admission will be honored.
Kids Add to the Magic
Three new displays this year have been created from the ideas of school children and youth groups to be part of "The Magic of the Season" .Watch for these creations from the Albany School of Humanities, Lisha Kill Middle School and Albany PAL's After-School Club and experience the magic of their ideas transformed into lights.
NEW! Walking Nights to Help Others
This year, Albany PAL introduces three special nights that benefit the community during which walkers can stroll a special route of festive lights along Washington Park's Lake.
On Nov. 23, from 5:30 to 8:00 p.m., it's time to "Stuff the Albany Trolley" to benefit Albany PAL's Annual Toy Drive.  Bring a new, unwrapped toy donation, or make a cash donation, and enjoy the stroll.
On Nov. 24, from 5:30 to 8:00 p.m., make a cash donation to help the animals at the Mohawk-Hudson Humane Society and the Animal Protective Foundation. It's "Pets Walk Your Parents Night" at the lights.
On Jan. 3, from 5:30 - 8:00 p.m., join us for "PAL Packs the Pantry". A monetary donation will benefit local food pantries as you enjoy the very final, walk-only night at the show.
Special Features
At the end of the drive, the Lake House is open most evenings (closed Dec. 24, Dec. 25, Dec. 31, Jan. 1 and Jan. 2). Special features include face painting, balloon sculptures,  a craft show for holiday shopping, refreshments, photos with Santa (through Dec. 23), and visits from special friends (costumed characters nightly) including Santa's Reindeer. His Reindeer will be visiting on Dec. 5, 12, 19 and 23. Carriage rides through the show are available Thursday through Sunday, by contacting Saratoga Horse and Carriage Company. For reservations, call 518-584-8820.  Or, gather up your friends, neighbors, family or co-workers and charter an Albany Trolley for an excursion through the Lights. Call 518-462-3825 for details. To volunteer or for more information about Hannaford Capital Holiday Lights, call Albany PAL at 518-435-0392. For more information and the most up-to-date schedule of events at Hannaford Capital Holiday Lights, visit
http://www.albanycapitalholidaylights.com/
or call Albany PAL. MEDIA CONTACTS: Sgt. (Ret.) Lenny Ricchiuti PH: 518-435-0392 OR -- Kathy Condon Condon Communications P.O. Box 4208 Albany, NY 12204 PH: 518-436-1103 CELL: 518-441-0259 Photos are available at this site until 11/15/2010: 
https://rcpt.yousendit.com/984561283/b8977d108ddb92c9b18caa38052615b5