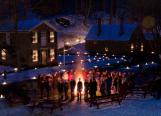 Cooperstown, N.Y.
- Join us for one of the region's best-loved holiday traditions,
Candlelight Evening
, to be held Saturday, December 14, from 3:00 to 7:00 p.m. at The Farmers' Museum in Cooperstown. Music and live performances bring Candlelight Evening to life. "A Living Nativity" is presented by members of the congregation of Christ Episcopal Church. Excerpts from Charles Dickens'
A Christmas Carol
are performed by the cast of the Glimmer Globe Theatre production. Traditional holiday favorites are sung by the Catskill Chamber Singers and the Ah Coopella Singing Group. Holiday favorites are played by local school bands. Best of all, visitors can join in singing with carolers in the midst of our candle-lit historic buildings! Real jingle bells add to magic of the evening. Horses adorned with harness bells clip-clop through the museum grounds, carrying visitors on delightful wagon rides. The landscape of the museum is decorated in greenery and aglow with hundreds of candle luminaries. Then gather around a bonfire on the tavern green. Partake of complimentary wassail, made with local cider from Dyn's Cider Mill, warming in kettles over open fires and served throughout the afternoon and evening. Candlelight Evening will be unforgettable for kids too! Saint Nicholas tells stories in the Filer's Corners Schoolhouse. Children can also take part in holiday arts and crafts activities. Free rides on the Empire State Carousel are provided to all visitors, courtesy of Matt Sohns and family. Warm up with piping hot food and drink offerings at two locations: the L.C. Jones Center and Crossroads Café. Top it off with the perfect dessert for the season: delicious gingerbread cake with whipped cream. A visit to the Museum this holiday season is not complete without a stop at The Farmers' Museum Store and Todd's General Store, where a large selection of handcrafted items from the museum are available as well as other seasonal favorites. __________ Receive $2 off regular adult admission by purchasing tickets online at
FarmersMuseum.org
. This offer is available through noon on December 13. Regular admission: $12 for adults, $10.50 for seniors, and $6.00 for children ages 7-12. Children under 6 years of age and members of the New York State Historical Association receive free admission.   Walk to the museum from the village of Cooperstown and enter through the new admission gate located at the south edge of the museum. The Farmers' Museum is located at 5775 State Highway 80, Cooperstown, NY 13326.
Parking and Shuttle:
Free shuttle service starts at 2:30 pm, serving the parking lots at the Otesaga Hotel, Cooperstown Elementary School, and the three trolley lots at the perimeter of the village of Cooperstown. Please visit our website for updated parking and shuttle information.  Visit
FarmersMuseum.org/candlelight
or call (607) 547-1450.
Candlelight Evening
visitors should dress warmly and wear boots.   Candlelight Evening is sponsored in part by 
NBT Bank,
Price Chopper's Golub Foundation,
Cathedral Candle Company,
Haggerty Ace Hardware,
 and Matt Sohns and family. Candlelight Evening is also made possible with public funds from the New York State Council on the Arts, a state agency.
Candlelight Evening
Saturday, December 14, 2013 • 3:00-7:00 pm The Farmers' Museum, Cooperstown, NY ###
For more information or images, please contact:
Todd Kenyon, Public Relations New York State Historical Association Fenimore Art Museum/The Farmers' Museum Phone: (607) 547-1472 / E-mail:
t.kenyon@nysha.org
About The Farmers' Museum
As one of the oldest rural life museums in the country, The Farmers' Museum in Cooperstown, New York, provides visitors with a unique opportunity to experience 19th-century rural and village life first-hand through authentic demonstrations and interpretative exhibits. The museum, founded in 1943, comprises a Colonial Revival stone barn listed on the National Register for Historic Places, a recreated historic village circa 1845, the Empire State Carousel, and a working farmstead. Through its 19th-century village and farm, the museum preserves important examples of upstate New York architecture, early agricultural tools and equipment, and heritage livestock. The Farmers' Museum's outstanding collection of more than 23,000 items encompasses significant historic objects ranging from butter molds to carriages, and hand planes to plows. The museum also presents a broad range of interactive educational programs for school groups, families, and adults x`that explore and preserve the rich agricultural history of the region.