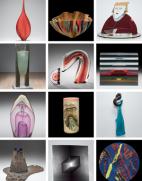 See three special exhibitions of contemporary glass, tour with artists and Make Your Own Glass
CORNING, NY-
This summer, the voices of contemporary artists echo through The Corning Museum of Glass. Visitors can explore three contemporary glass exhibitions, see new glass demonstrations, tour the galleries with artists, and express their own artistic voice in family-friendly activities.
Three Exhibitions of Contemporary Glass
Voices of Contemporary Glass: The Heineman Collection
May 16, 2009
-
January 3, 2010
A new survey of one of the largest and finest collections of contemporary studio glass in the United States will open at The Corning Museum of Glass,
Voices of Contemporary Glass: The Heineman Collection,
will present 240 works in glass by 87 international artists. The exhibition showcases the collection donated to the Museum in 2006 by Ben W. Heineman, Sr. and his wife, Natalie G. Heineman, and features video interviews with a selection of artists represented, exploring their individual ideas, or "voices," in glass. "The exceptional compilation of objects displayed in the exhibition documents a remarkable material and a deeply introspective process of working that helps to explain the often indefinable, but always captivating, allure of glass," said Tina Oldknow, curator of modern glass and of the exhibition. The Heineman Collection nearly completely documents the chronology of the American Studio Glass movement, with objects dating from 1969 to 2005, and it presents the work of several artists over the course of their careers. Highlights of the exhibition include:
 

Blown vessels by Lino Tagliapietra, considered to be the world's foremost glassblower and one whose influence has had a lasting impact on American studio glass.
A rare group of "Navajo Blanket" cylinders blown in the mid-1970s by the internationally recognized artist, Dale Chihuly.
Iconic sculptures by the acknowledged "fathers" of American studio glass, Harvey K. Littleton and Dominick Labino, who, in 1962, introduced the first studio-sized glass furnace that enabled glassworking to move outside of a factory environment, launching the American Studio Glass movement.
Favorites from the Contemporary Glass Collection
Through
January 3, 2010
This exhibition presents 40 favorite sculptures and vessels from the Museum's extensive permanent collection of contemporary studio glass.
Favorites from the Contemporary Glass Collection
brings together some of the art works that are repeatedly singled out by Museum visitors. They range from a large flameworked sphere by Susan Plum and colorful blown vessels by Dante Marioni to a monumental cast dress by Karen LaMonte and a family portrait of flameworked "molecular" forms by Jill Reynolds.
Masters of Studio Glass: Richard Craig Meitner
Through
October 18, 2009
The intellectual, poetic, and always changing work of the American artist Richard Craig Meitner reflects a variety of influences and ideas, from Japanese textiles and Italian painting and applied arts to science and the natural world. The colorless glass surfaces of his quixotic objects often incorporate assorted materials such as rust, enamel, bronze, tile, paint, and print. Meitner revels in unusual juxtapositions of forms and ideas, in unanswered questions, and in the intersections between art and science.
Tour the Collection with Artists, Curators and More
The Museum is offering several ways to explore the collection this summer. In addition to the self-guided tour, visitors can join on any of the following tours:
 

Artist's Choice Tour: Each Thursday and Friday at 4:15 p.m., from June 4 -September 11, walk through the galleries with an artist from The Studio, and learn about what inspires him or her. Tours will be led by 18 different artists, including William Gudenrath, Jirí Harcuba, Denise Stillwaggon Leone, Paul Stankard, and Gianni Toso. Visit http://www.cmog.org/ for a complete schedule.
Curator-led Tour of Voices of Contemporary Glass: Explore this year's major exhibition with curator of modern glass, Tina Oldknow. Tours are offered each Wednesday at 2:00 p.m., July 1 - October 28 (subject to her availability; the tour will be led by a substitute guide in her absence).
Studio Tour: Take a 45-minute tour of The Studio and learn more about the various techniques taught in summer classes. Tours are offered daily, July 1- September 7, at 10:15 a.m.
Hidden Treasures Tour: One-hour tours led by the Museum's knowledgeable docents focus on highlights in the galleries. Tours take place daily at 11:00 a.m. and 1:30 p.m., May 22 - October 31. Additional tours will also be available at 3:00 p.m., July 1 - September 7.
More than 50 Glass Demonstrations Each Day
Live demonstrations of glassmaking, glass innovations and even glassbreaking take place every day, all day.
Hot Glass Show:
Watch narrated demonstrations, as master glassmakers take gobs of molten glass and transform them into beautiful vases, bowls, and sculptural objects.
NEW - How'd They Do That?!:
Once a day, from July 1 through Labor Day, glassmakers at the Hot Glass Show choose an object from the collection and show you how it was made.
The Late Show:
The last shows of the day offer special, in-depth demonstrations. Watch glassmakers make the biggest, most colorful pieces of the day! At the end of the show, you might win a piece of glass!
Flameworking Demo:
Glassmakers create fanciful objects by melting and shaping glass rods at the glassworking torch.
Glassbreaking Demo:
Find out why the glass in your car windows breaks differently from the glass in your home, and how glass is made stronger by a special cooling process.
NEW - Optical Fiber Demo:
Learn how optical fiber transmits huge amounts of information, allowing us to communicate at the speed of light.
Make Your Own Glass
Discover your own artistic voice. Make Your Own Glass souvenir in short workshops, offered every 40 minutes, every day of the week. Projects for all ages. This summer, complementing the contemporary glass focus, contemporary-shaped objects(suncatchers, blown-glass sculptures, modern geometric sandblasted vessels and flameworked glass pendants) are being offered in addition to regular offerings. Make Your Own Glass experiences are offered seven days a week, 9:20 a.m. - 8:00 p.m. (last appointment begins at 7:20 p.m.), and cost $9-$25, depending on the project. Shipping is additional. All projects, except sandblasted objects, must cool overnight and will be ready for pick-up the following day. Reservations are required. Space is limited. Purchase tickets online at
http://www.cmog.org/
, by calling 800.732.6845, or at the Admissions Desk upon arrival. Workshops fill quickly, so we recommend you book in advance.
The Corning Museum of Glass
The Corning Museum of Glass (
www.cmog.org
) is home to the world's most comprehensive and celebrated collection of glass, with more than 45,000 objects reflecting 3,500 years of glassmaking history. An independent, non-profit, educational institution, the Museum is dedicated to the art, history, science, research and exhibition of glass. The Museum is open from 9:00 a.m. to 5:00 p.m. every day and from 9:00 a.m. to 8:00 p.m. in the summer. Children and teens, 19 and under, receive free admission.