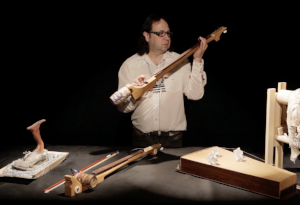 Guillermo Galindo makes instruments out of discarded objects found along the Mexico-U.S. border
Saratoga Springs, NY (March 13, 2018) — The Frances Young Tang Teaching Museum and Art Gallery at Skidmore College is pleased to announce a special performance of Sonic Borders II on Tuesday, March 20, at 6 p.m. by experimental composer, multimedia artist, and performance artist Guillermo Galindo.
Presented in conjunction with the exhibition Along the Border, Galindo will perform an original composition using instruments he has crafted from discarded objects found at multiple sites along the Mexico-U.S. border.
The performance is free and open to the public. For more information, call 518-580-8080 or visit http://tang.skidmore.edu.
The exhibition Along the Border presents Galindo's work, which explores the economic, political, and social issues around the Mexico-United States border. Since 2009, Galindo has created a series of instruments which he calls "cybertotemic sonic objects," made from discarded objects found along the 2000-mile national divide. The exhibition features work constructed from discarded cans, shoes, bicycle wheels, wood, leather, and more. 
In brief
Sonic Borders II
What: Artist Guillermo Galindo performs an original composition with instruments he crafted from objects found along the Mexico-U.S. border.
When: 6 pm Tuesday, March 20
Where: Tang Teaching Museum at Skidmore College, 815 N. Broadway, Saratoga Springs
Admission: Free
Info: 518-580-8080 or http://tang.skidmore.edu
About Guillermo Galindo
Guillermo Galindo is an experimental composer, sonic architect, performance artist and visual media whose work redefines the conventional limits between music, the art of music composition and the intersections between all art disciplines, politics, humanitarian issues, spirituality and social awareness. Galindo's artistic practice emerges from the crossroads between sound, sight and performance and includes everything from orchestral compositions, instrumental works and opera, to sculpture, visual arts, computer interaction, electro-acoustic music, film making, instrument building, three-dimensional installation and live improvisation.
In 2012, Galindo embarked on a collaborative series entitled Border Cantos with photographer Richard Misrach to explore the United States-Mexico border through image and sound. Misrach has documented the border since 2004. After meeting Galindo during a chance-encounter in 2011, Misrach began collecting items he discovered during his travels and sending them to Galindo, who then transformed them into sculptural sound devices. Border Cantos was exhibited nationally between 2016 and 2017, traveling to the San Jose Museum of Art; Amon Carter Museum of Art, Fort Worth; and Crystal Bridges Museum of American Art, Bentonville; and Pace Gallery and Pace/MacGill Gallery, New York.
Galindo's graphic scores and three dimensional sculptural cybertotemic sonic objects have been shown at major museums and art biennials in America, Europe, Asia and around the world including documenta14 (2017), Pacific Standard Time (2017) and CTM Festival (2017). HIs work has been featured on: BBC Outlook, Vice Magazine, RTS Switzerland, National Public Radio, CBC, California Sunday Magazine, Reforma Newspaper, CNN and the New York Times. 
Photo: Performance still of Guillermo Galindo with Erjumex (Metal string) and Erjumex (Nylon string), 2013, courtesy the artist
About the Tang Teaching Museum
The Tang Teaching Museum at Skidmore College is a pioneer of interdisciplinary exploration and learning. A cultural anchor of New York's Capital Region, the institution's approach has become a model for university art museums across the country-with exhibition programs and series that bring together the visual and performing arts with fields of study as disparate as history, astronomy, and physics. The Tang has one of the most rigorous faculty-engagement initiatives in the nation, the Mellon Seminar, and robust publication and touring exhibition initiatives that extend the institution's reach far beyond its walls. The Tang Teaching Museum's building, designed by architect Antoine Predock, serves as a visual metaphor for the convergence of ideas and exchange the institution catalyzes. The museum is open from noon to 5:00 p.m. on Tuesday through Sunday, with extended hours until 9:00 p.m. on Thursday, and is closed on Mondays and holidays. More information at tang.skidmore.edu.
Media contact
Michael Janairo
Assistant Director for Engagement
Tang Teaching Museum at Skidmore College
mjanairo@skidmore.edu
518-580-5542