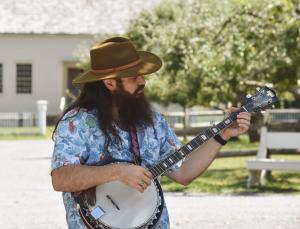 Coming up August 19 & 20
Mumford, NY (August 4, 2023) – Genesee Country Village & Museum in Mumford, NY, will dig into the musical roots and folk traditions of New York State during the annual Fiddlers' Fair & Making Music Weekend, coming up on Saturday, August 19, and Sunday, August 20, from 10 a.m. – 4 p.m. Visitors will enjoy an extraordinary musical experience that brings together musicians on multiple stages for a weekend of non-stop entertainment. Settle in to hear the variety of performers, enjoy food and drink, explore the 19th-century Historic Village, and spend the day immersed in live musical performances. This event is sponsored by National Grid with media sponsor WXXI. Learn more and purchase tickets: https://www.gcv.org/events/making-music-weekend/
Explore the musical roots of New York State
Explore the musical stylings brought to New York State by laborers on the Erie Canal, listen in on a discussion around cultural expression, racial stereotyping, and appropriation involved in 19th-century minstrel shows, see a luthier crafting stringed instruments on site and learn about his process, enjoy on a lively demonstration of Irish bagpipes (uillean pipes) and learn about the role this instrument played in shaping Irish-American music, explore development of the American Blues in New York State, and more.
New this year – take a master class
New for 2023, visitors to Fiddlers' Fair & Making Music Weekend are invited to join regional performers and professionals for one-hour workshops included in the cost of festival admission. On Saturday, sit in on "Improvisation Made Simple & Learning By Ear" hosted by Howard Lester (11:30 a.m.), "Introduction to Home Recording" hosted by Alfred Brown of Lowly Mountain Banjos, or "The Art of Harmonica" hosted by Thomas Hanney (2:30 p.m.). On Sunday, join "Playing with Others & How to Jam" hosted by Daniel Lynch (12:30 p.m.) or "Stage Presence & Audience Interaction" hosted by Howard Lester (1:45 p.m.).
Meet regional tradition-bearers
The festival will feature mainstays of New York State's folk and historical music community. Special presentations include, but are not limited to: Tim Ball ("Upstate Crossroads," an exploration of fiddle tunes from across New York State), Ted McGraw (learn about the relevance of accordions in our local musical history), and more. Other tradition bearers include Nils Caspersson, Mary Lester, John Ryan, Howie Lester, and Allen Hopkins.
Jamming Tent
The Fiddlers of the Genesee will once again sponsor the Jam Tent on the Museum's scenic Great Meadow – open to any visitors who arrive with instruments in hand ready to lend their talents to a tune. Visiting musicians are also encouraged to find spots throughout the Museum grounds where they can indulge in impromptu jams.
Enjoy musical performances galore
Visitors are encouraged to bring a chair or blanket to settle in for a wide variety of musical performances all around the GCV&M grounds. Hear performances by The String Chickens, Almost Irish, The Out of Towners, Orleans City String Band, the Fancy Bandits, and Joe Beard & The Blues Union. (Performances vary between Saturday and Sunday.)
Plus, on Friday, August 18, GCV&M will host it's last Summer Sunset Series outdoor concert of the season, with a performance by Rochester band A Girl Named Genny, from 5:30 – 8:30 p.m. Learn more and purchase tickets: https://www.gcv.org/event/summer-sunset-series/
Purchase tickets online in advance and save
Those interested in attending Fiddlers' Fair & Making Music weekend are encouraged to purchase tickets online in advance to get early bird discount pricing – there is a small additional fee at the door for daily admission and special event tickets purchased day-of. Student musicians under 18 with instruments in-hand are granted complimentary admission for themselves and one chaperone (pre-registration is necessary – student musicians can pre-register by emailing rward@gcv.org). Musicians wishing to sign up to play on the Main Stage will be refunded the price of admission upon signup. Visit https://www.gcv.org/event/fiddlers-fair-making-music-weekend/ to learn more and purchase tickets online.
###
Image: Don't miss a toe-tapping good time at GCV&M's Fiddlers' Fair & Making Music Weekend, coming up Saturday, August 19, and Sunday, August 20!   
Additional photos and b-roll are available by request. To request an interview, or be removed from this mailing list, contact pengard@gcv.org.
GCV&M is the largest living history museum in New York State with the largest collection of historic buildings in the Northeast. The Museum, with its John L. Wehle Gallery, working brewery, vintage base ball park, and Nature Center, is located in Mumford, NY, 20 miles southwest of Rochester and 45 miles east of Buffalo. Visit www.gcv.org for more information.
Media Contact: Paige Engard, (585) 294-8280, pengard@gcv.org