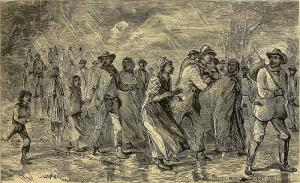 Saturday, January 18, 2020 at 1:00 Pm
Utica, N.Y. – Join Dr. Norm Dann at the Oneida County History Center to explore the remarkable history of the Underground Railroad in Central New York. You'll learn about the operation and function of the Underground Railroad, plus intriguing details about the station in Peterboro that was operated by the Gerrit Smith family. This program takes place in the History Center's main gallery on Saturday, January 18, 2020 starting at 1:00 PM.
Norman K. Dann, Ph.D. is Professor Emeritus Morrisville State College, Morrisville NY and has taught courses in political science, psychology, sociology, and environmental science. He received a B.A. in Psychology at Alderson-Broaddus College in 1965, his M.A. in Political Science at the University of Rhode Island in 1967, and his Ph.D. in Interdisciplinary Social Sciences at Syracuse University in 1974. Dr. Dann is a founder and emeritus of the Cabinet of Freedom for the National Abolition Hall of Fame and Museum, head docent of the Gerrit Smith Estate National Historic Landmark, a 25 year member of the Annual Peterboro Civil War Weekend Committee, and Treasurer of the Peterboro Area Museum. 
The Oneida County History Center, located at 1608 Genesee Street in Utica, is a private 501(c) (3) not-for-profit educational institution dedicated to preserving and promoting the history, heritage, and culture of the Greater Mohawk Valley. Admission to this program is free for the general public; donations are encouraged. Please contact the History Center at 315-735-3642 or visit the OCHC website(www.oneidacountyhistory.org) or Facebook.com page for additional information.
###
Facebook Event Link: https://www.facebook.com/events/1934050003407003/
For more information:
Rebecca McLain
Director of Education & Outreach
Oneida County History Center
(315)-735-3642