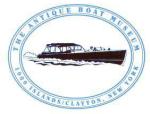 Clayton, N.Y.
- The Antique Boat Museum (ABM), North America's premier freshwater nautical museum based in Clayton, New York, welcomes world-record holding sailor Howard Rice on May 11 & 12 as part of the Museum's Opening Weekend festivities. Rice, who was featured in
Sports Illustrated
in 1990 for his hair-raising adventure in a small boat, will host a lecture about his amazing journey around the southernmost point of South America in the Cox Theater on the Clayton campus on Saturday, May 11 at 4 p.m. The lecture is included in the price of museum admission. Rice had set his sights on the daunting task of sailing around Cape Horn, Chile in a 15-foot sailing canoe in January 1989. He would sail on the adventure-of-a-lifetime while facing scrutiny from the Chilean Navy, blistering 65 knot winds, and numerous times of being capsized. However, he would prevail, but while suffering numerous cracked teeth, exposed nerves and a swollen jaw courtesy of being capsized along the way. In addition to his lecture, Rice returns to the ABM on Sunday, May 12 to host an open boat cruising techniques seminar at 10 a.m. Rice will explain his many ways of open boat cruising for those interested in learning new ways to explore the 1000 Islands in small craft such as canoes, skiffs, and kayaks. To register for this event, call the ABM at 315-686-4104 x235. Cost is just $10. Located on the St. Lawrence River in the 1000 Islands, the Antique Boat Museum features a collection of over 300 antique and classic boats among thousands of recreational boating artifacts. This August, the Museum will host the 49
th
annual Antique Boat Show and Auction, the longest running show in North America. For more information please visit the Museum's website at
ABM.org
.
###