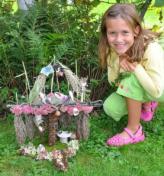 Rochester, N.Y.
- If you build them. . .they will come! Learn about the art of building fairy houses from an award-winning children's book author and create your own woodland fairy dwelling at
Fairy House Magic at the National Museum of Play at The Strong®
on Saturday, June 8 from 11 a.m. to 4 p.m. The event is presented in conjunction with the Fairy Houses Tour at the
45th Annual Corn Hill Arts Festival
to be held July 13 and 14.    
Meet Tracy Kane, author of The Fairy Houses Series® of children's books that has popularized building fairy houses around the world, and join her for story readings at 11 a.m. and 2 p.m. as she offers tips for making fairy houses from materials found in nature. Kane's books will be available for sale and autographs by the author.
Enjoy a screening of Kristen's Fairy House, a DVD starring Kane and her niece Kristen as they share an island adventure.
See a display of handmade fairy doors, charming portals into fairy land created by artists Chris Pallace and Kevin Serwack.
Meet a woodland fairy and get a sprinkle of fairy dust for good luck!
Stop by the craft station and make your own fairy dwelling to take home using recycled and natural materials.
Try on wings and transform into a fairy, woodland sprite, or magical creature.
Say "Hi!" to the Very Hungry Caterpillar, Eric Carle's beloved character.
Play with puppets, blocks, and whimsical building materials.
Explore the museum's outdoor Discovery Garden, a 9,000-square-foot urban oasis abundant with trees, shrubs, and flowering plants and a certified monarch way station.
Visit Dancing Wings Butterfly Garden® and walk among 1,000 colorful, free-flying butterflies in a tropical rainforest environment. (Admission to the butterfly garden requires general museum admission fees plus the purchase of an individual, timed ticket.)
The Corn Hill Arts Festival Fairy Houses Tour invites the community to build Fairy Houses to showcase at the Corn Hill Arts Festival.
Showcasing a fairy house is free, but participants must register at
http://www.cornhillartsfestival.com/
. Ten award-winning fairy houses will be displayed at the National Museum of Play on Tuesday, July 16 through Sunday, July 28. All Saturday Fairy House Magic activities at the National Museum of Play are included with general museum admission fees.                        =============================================================
Museum Hours:
Monday-Thursday, 10 a.m. to 5 p.m.; Friday and Saturday, 10 a.m. to 8 p.m.; Sunday, noon to 5 p.m.
General Admission Fees
(does not include admission to
Dancing Wings Butterfly Garden
®
): age 2 and older $13, under age 2 free, members free.
Admission to Dancing Wings Butterfly Garden:
General Admission fee plus $3 for members, $4 for nonmembers, under age 2 free. Entry is by timed ticket only.
Parking:
Free parking is available at the museum for all guests on a first-come, first-served basis. Please note that, on high visitation days, the museum lot may reach capacity early in the day. If space is not available on site at the time of your visit, additional parking is available at neighboring municipal garages for a fee. The Strong is not responsible for fees incurred at off-site locations.
Contact
: Susan Trien, 585-410-6359,
strien@thestrong.org
Shane Rhinewald, 585-410-6365,
srhinewald@thestrong.org