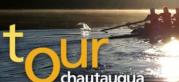 Chautauqua, N.Y.
- The Chautauqua County Visitors Bureau in western New York State is preparing to celebrate the fall season with the second annual Colors of Chautauqua learning festival. In a nod to its brand, the World's Learning Center, the schedule highlights vacation learning opportunities happening throughout the county from Labor Day through November including a Quilting Festival at Chautauqua Institution, historic cemetery tours with costumed guides in Jamestown and Fredonia, and workshops in subjects ranging from brewing to the game of Bridge. The schedule includes dozens of workshops that enhance the visitor's experience and compliment a strong line-up of fall festivals honoring Chautauqua's agricultural heritage. Visitors might come for a class and visit the annual Busti Apple Festival, Festival of Grapes in Silver Creek, or Red, White and Blues Festival in Fredonia. "With the Colors of Chautauqua, we are striving to broaden the leisure learning experience for visitors beyond the nine week program season at Chautauqua Institution," said Andrew Nixon, Executive Director at the Chautauqua County Visitors Bureau. "The Colors of Chautauqua is a collection of several dozen classes, tours, dinners, tastings, and hands-on work experiences meant to entertain while engaging the mind in a new way." Participants might tap into their creative side with introductory art experiences like charcoal drawing, sculpture, plein air (in the open air) painting, and leaf printing. Others might choose to stimulate their taste buds while becoming more knowledgeable about local foods. Culinary type experiences range from learning to preserve the local harvest to sitting down to a five course Farm-to-Table dinner. There are opportunities to walk through the vineyard with the winemaker to check the readiness of the grapes and another experience being a brewer for a day. Tours through the countryside highlight Amish life with stops at several different shops. The Roger Tory Peterson Institute offers two natural adventure tours with tips on identifying native birds, wildflowers and trees and a lesson on the natural history of the Chautauqua-Allegheny region. Chautauqua County's learning festivals have grown out of 139 year history of vacation learning at Chautauqua Institution and other lakeside summer assemblies formed during the late nineteenth century. Workshops and classes are offered through local businesses and tourist attractions as well as through SUNY Fredonia's Lifelong Learning and Special Programs and Jamestown Community College's Center for Continuing Education. Instructors are experienced educators, artists, professionals, or, in some cases, people who want to share a lifelong interest. Individual classes range in time and cost, and several take place outside or in a working environment. While the Colors of Chautauqua is a seasonal festival, many of these experiences can be found throughout the year. Descriptions of all the workshops offered during the Colors of Chautauqua can be found on the Chautauqua County Visitors' Bureau website at
www.tourchautauqua.com/colors-of-chautauqua.aspx
. Chautauqua County is located in the southwestern corner of New York State with New York's largest grape growing region, five lakes, Victorian-era villages and Amish communities, and Lucille Ball's hometown of Jamestown. For more information and a schedule of vacation learning events during the Colors of Chautauqua as well as throughout the year, call 1-866-908-4569 or visit
http://www.tourchautauqua.com/
.
###
Attached photo - The five-course Farm-to-Table Dinner at the Athenaeum Hotel provides an educational culinary experience during the Colors of Chautauqua learning festival.