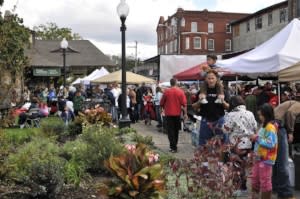 Discover everything Orange County has to offer during the Hudson Valley's most colorful time of the year.
Orange County, N.Y. (August 1, 2018)- Thanks to its spectacular scenery, acclaimed restaurants, hotels, famous historic sites, and delicious farm fare, Orange County has become one of New York's premiere destinations. Travel just an hour north of New York City to experience Orange County's landscapes dressed in their vibrant autumnal best as you celebrate unique festivals and special events in quaint villages, vineyards and other spectacular settings.
"There's nothing better than fall in Orange County," says Orange County Tourism Director Amanda Dana. "Take in the views while listening to live music, shopping local vendors, sipping farm-to-glass spirits, and picking apples and pumpkins. Taste cider donuts and artisan pies still warm from the oven."
Here are a few upcoming Orange County fall festivals for your calendar:
Enhance your visit with a stay at a cozy B&B or book a hotel convenient to your itinerary. Be sure to check out Orange County Tourism's full online events calendar and Facebook page: Orange County Tourism NY to keep up on all of the memorable experiences available to visitors.
About Orange County Tourism
Orange County Tourism, based in Goshen, N.Y., is the county's tourism headquarters and a participant in the I LOVE NY program. A comprehensive listing of area attractions, lodging, and events can be found at www.OrangeTourism.org. For a free copy of the Orange County Travel Guide, email tourism@orangecountygov.com or call 845-615-3860.
###
PHOTOS
WarwickApplefest.jpg
Warwick Applefest (photo credit: Bruce Balistrieri)
NewYorkAirShow.jpg
New York Air Show (photo credit: Tom Bushey)