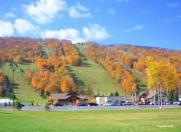 Canandaigua, N.Y.
- The fall colors are arriving early this year at Bristol Mountain and the 2010 Fall Sky Ride season at Bristol Mountain is underway.  Guests have spectacular views of the fall foliage from the popular sky ride attraction.  Riders are whisked up the mountain on the Comet Express Hi-Speed Quad which is slowed down to a leisurely 15-20 minute ride up the face of the mountain. Guests can ride or hike down from the top. Bristol Mountain is starting to show hints of yellow, orange and red hues, especially along the new Lower North Star that was added this summer.  Mountain Manager, Ken Keenan, commented, "Our mountain crew has worked very hard this summer cutting and developing the new 2,300 foot, intermediate, trail which will debut during the 2010-11 operating season." When asked what's new for the Fall Sky Ride season, Frank Ricco, Food and Beverage Manager, replied, "Anyone proposing on the Sky Rides this fall will be met at the top of the mountain by our staff with a complimentary champagne toast to celebrate their engagement.  We have already started receiving calls."  He adds, "The Sky Rides have become a very popular place for couples to get engaged.  Anyone interested in proposing should contact Mr. Riccio at 585-374-1180.  This offer is limited to those 21 years of age or older. The weekend weather forecast is calling for typical fall like weather which is perfect for leaf peeping.   Sky Rides operate on weekends from 12noon-4pm, concluding on October 31
st
.  Prices are $9 for adults and $6 for children (3-12) and seniors (65 & older).  For more information call 585-374-6000 or go to the website at 
http://www.bristolmountain.com/
.
Photo of Bristol Mountain by Tony DeLeo
Contact:
Drew D. BroderickPhone: 585.374.1125Email:
dbroderick@bristolmt.com