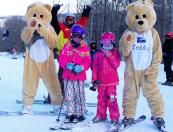 Malone, N.Y. - Old Man winter has created one for the record books with cold temperatures and many nights of snowfall. While many residents of the North Country have denounced the 2014-2015 season, Titus Mountain Family Ski Center has been embracing a season chock full of great conditions.
"Ski conditions have been great this year despite what people might think. The continual snowfall night after night coupled with the cooler temps have created a great base of snow that isn't too slushy, isn't too sticky, and isn't too icy," said Dene Savage, the IT Director at Titus Mountain and in-house conditions reporter. "We're going to keep grooming the finest snow we've had in a while and make sure it's perfect for anyone who's coming out to ski our great trails and glades." And Titus Mountain, despite some of the colder temps, has continued to host weekly events for locals and visitors alike. "We have live music every weekend," said Angela Warner, an event coordinator on the mountain. "We have listened to some requests and have brought some new entertainment in this year. I've been very pleased with what they've [the entertainment] brought to the table. It's been a fun season."
This Saturday, February 21, Family Fun Day returns to the mountain complete with kids' activities, crafts, and free face painting for all ages. An All Mountain and Poker Run is slated for the afternoon as well as a Penguin Paddle Race, S'mores by the fire pit and a picture hour with Titus Teddy. Northbound closes out the night with live music from 5 to 8 p.m. Titus stresses that families don't have to be "ski families" to enjoy the weekend. "Everyone is welcome," Savage stated. "We want the mountain to be open to everyone, whether you just come for refreshments and a meal at the Grill or hit the slopes. And I might be biased, but if you are looking to learn to ski, our learning program is top-notch."
More information on the snow conditions and weekly events can be found at www.TitusMountain.com.
Weekly activities and entertainment is free to the public; lift tickets are required for skiing and tubing.

About Titus Mountain Family Ski Center
Titus Mountain is a locally owned and operated Family Ski Center nestled in the Foothills of the Adirondacks. With 3 interconnected mountains, 36 trails, 11 glades, 3 terrain parks, and a tubing park, Titus Mountain has trail for trail, glade for glade, the best skiing value around. Open 7 days a week and night skiing available 3 nights a week, Titus Mountain has the longest ski day in New York. On Mountain services include 2 lodges, 5 dining areas, mountain rentals, ski and board tuning, and an IBC ski store.
Contact:
Brittany Taylor, Director of Marketing
215 Johnson Road | Malone, NY 12953
Phone: (518) 483-3740 | Fax: (518) 483-2031
Email: Brittany@TitusMountain.com
###