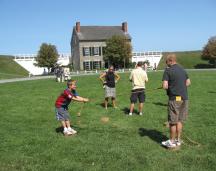 Oswego, N.Y. - Children can play historic games such as "shinny," croquet, nine pins, "whist," and "shut the box" at Fort Ontario State Historic Site's Family Fun Day Wednesday, July 14, from 10 a.m. to 4:30 p.m. The event is geared for children 12 years of age and younger and includes a coloring contest, foot races, and Capture the Flag.
Family Fun Day is made possible by the Friends of Fort Ontario and Oswego County AmeriCorps.  Families are encouraged to bring a lunch. Cold refreshments will be provided.  Admission for children age 12 and under is free; adult admission is $4 and senior/student (13 and up) admission is $3.  Those interested in volunteering may contact Brittany Patterson at Fort Ontario, at (31) 343-4711.
Fort Ontario State Historic Site is one of six historic sites and 18 parks in the Central Region administered by the New York State Office of Parks, Recreation and Historic Preservation, Carol Ash, Commissioner. For more information about NYS Parks visit the website at
http://www.nysparks.com/
  For information on Fort Ontario, contact Paul Lear, Historic Site Manager, at (315) 343-4711.
###
Photo caption: Historic games and activities will be featured July 14 at the Family Fun Day at Fort Ontario.
CONTACT:    Brittany Patterson, Oswego AmeriCorps, Fort Ontario State Historic Site  (315) 343-4711