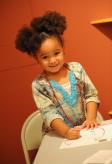 Every Friday in July, 1-3 p.m.
Corning, N.Y.
- Create your own art project! Every Friday in July the Rockwell Museum of Western Art will host a two-hour drop-in program where families can create their own art project! The program runs from 1:00 p.m. - 3:00 p.m. on Friday July 6, July 13, July 20 and July 27.  Activities are geared for children ages 6 and up with adult guidance and will connect with Western and Native American themes. This program is free to local area school district families who reside in the 148, 149 and 169 zip codes.
July 6
-Create the perfect western landscape using patterned scrapbook paper and drawing paper.
July 13
-Braid a leather rattlesnake zipper pull using leather strips and pony beads.
July 20
-Design your own authentic Western cowboy vest using brown paper and markers.
July 27
-Decorate a Western coaster with silver and turquoise pony beads, suede and yarn.
There is no additional fee for the following interactive activities:
Explore the West Activity Booklet
- Young buckaroos will explore the Museum through fun activities! Participate in a hide and go seek game, learn about real cowboys, and draw a horse!
Art Hunts
- Young visitors match an artist's drawing to images found in the paintings and objects throughout the galleries!
ArtPacks
- The ArtPack program offers backpacks filled with creative activities, puzzles, games and more! The ArtPack is a young trailblazer's guide to the Museum!
Travel Journal
- Visitors become explorers, traveling through the American West - drawing the animals and original people seen in the artwork. Use a spyglass to see every detail of the Western landscapes. Kids and Teens are always free, 19 & under.
###
Contact
: Beth Manwaring 607.974.4254
manwaringb@rockwellmuseum.org
Rockwell Museum of Western Art 111 Cedar Street, Corning, NY 14830