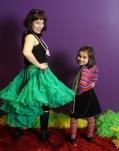 Rochester, N.Y.
- Calling all fashionistas! Transform yourself into a glamorous runway model during
Fashionistas Weekend at
The Strong museum
on Saturday, January 11 from 11 a.m. to 4 p.m. and Sunday, January 12 from 1 to 4 p.m. Try on dazzling outfits, visit the "make-up" studio, and consult with The Strong's fashion guru extraordinaire, Kiki. Other fashion fun awaits:
Strut your stuff on the catwalk and pose for pictures with adoring fans.
Design a crazy hat, mysterious mask, or other fashion accessory.
Stop by the styling salon to give Barbie a new hairdo.
Meet Stacey, known as the Hat Lady (http://www.hathorizons.com/), and explore a colorful display of hats and headdresses from around the world-including fromAfrica, Asia, Europe, and North and South America.
Check out a display of Barbie and other fashion dolls to see how styles have changed over time.
All Fashionistas Weekend activities are included with general museum admission fees.
###
Museum Hours:
Monday-Thursday, 10 a.m. to 5 p.m.; Friday and Saturday, 10 a.m. to 8 p.m.; Sunday, noon to 5 p.m.
General Admission Fees
(does not include admission to
Dancing Wings Butterfly Garden
®
): age 2 and older $13.50, under age 2 free, members free.
Admission to Dancing Wings Butterfly Garden:
General Admission fee plus $3 for members, $4 for nonmembers, under age 2 free. Entry is by timed ticket only.
Parking:
Free parking is available at the museum for all guests on a first-come, first-served basis. Please note that, on high visitation days, the museum lot may reach capacity early in the day. If space is not available on site at the time of your visit, additional parking is available at neighboring municipal garages for a fee. The Strong is not responsible for fees incurred at off-site locations. ### Contact: Shane Rhinewald, 585-410-6365,
srhinewald@thestrong.org