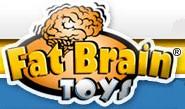 Rochester, N.Y.
- Fatten up your brain through play with daily activities at Fat Brain School-Break Week at Strong National Museum of Play Saturday, February 13 through Sunday, February 21.Put on your thinking cap and challenge yourself to mind-expanding Fat Brain games and toys such as Twig, Animalogic, and Tri-Spy. Build amazing creations with Dado Cubes-a toy whose invention was inspired by Strong's National Toy Hall of Fame® inductee, the Cardboard Box! More building fun awaits you at the new
LEGO® Castle Adventure
exhibit. Kids and families can explore a LEGO kingdom and build a castle fit for a king and queen using one of the greatest building materials of all time-LEGO bricks! In the
LEGO Castle Adventure
exhibit you can:
Visit the royal castle and see the king and queen's throne, a treasure room, and secret passageways.
Wander the castle grounds to learn about life in the Middle Ages.
Dress up in child-sized, medieval-themed costumes.
Test out your knight skills on a safe "jousting field" with suspender-style horses.
Construct a brick topiary for the castle courtyard.
Examine how several real, historic castles were planned and then build a castle of your own at one of three age-appropriate areas for Apprentice Builders (toddlers), Journeymen Builders (ages 3-6), and Master Builders (ages 7 and older).
Build a virtual fortress wall and test its strength with a LEGO catapult.
Climb into a lookout tower topped with a mini-figure guard and slide back down to the ground.
Visit the dragon's lair and create a fantastical story about knights, kings, princesses, and dragons.
All Fat Brain School-Break Week events are included with general museum admission fees.
LEGO® Castle Adventure
was created by The Children's Museum of Indianapolis in conjunction with LEGO Systems, Inc. The exhibit remains open at Strong through May 9, 2010.
About Strong National Museum of Play®
Strong National Museum of Play®, located in downtown Rochester, New York, is the only museum in the world devoted solely to the study of play as it illuminates American culture.
Museum Hours:
Monday-Thursday, 10 a.m. to 5 p.m.; Friday and Saturday, 10 a.m. to 8 p.m.; Sunday, 12 noon to 5 p.m.
Admission Fees:
General Admission (does not include admission to
Dancing Wings Butterfly Garden
®): Adults $11; Seniors $10; Children (2-15) $9; Children younger than two free; Strong members free.
Admission to Dancing Wings Butterfly Garden®:
General Admission fee plus $1.50 for members, $3 for nonmembers; Children under 2 free. Entry is by timed ticket only. Please call 585-263-2700 to reserve and purchase tickets.
Parking:
Free parking is available at the museum for all guests on a first-come, first-served basis. Please note that, on high visitation days, the museum lot may reach capacity early in the day. If space is not available on site at the time of your visit, you will be directed to additional parking at neighboring municipal garages (fees may apply). Contact: Susan Trien (585) 410-6359
strien@museumofplay.org