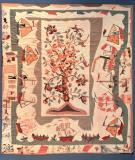 Cooperstown, N.Y.
-The Fenimore Art Museum in Cooperstown, New York will open a new exhibition on September 24 titled
Unfolding Stories: Culture andTradition in American Quilts,
organized by renowned quilt scholar Jacqueline M. Atkins.  The exhibition will be on view through December 31. This marks the first time in over 15 years that the Fenimore will display selections from its substantial collection of historical quilts some dating from the early 19
th
century. The exhibition explores the many connections that are made throughout and across cultures through the art of quilting, as well as how these connections have changed over time and place.  Almost every culture offers some form of quilting within its textile tradition, yet only in the United States do we see a confluence of traditions, cultures, ethnicities, and innovations that produces the richly diverse quilting culture that exists today. On view will be approximately 24 quilts distinguished by their design, pattern, and workmanship.  The quilts are organized to examine six themes ranging from the history and inventiveness of this time-honored practice to the role that quiltsplay in revealing values, culture, traditions, and beliefs. 
Unfolding Stories
pieces together thisintricate patchwork of diverse connections into a fascinating narrative that grows out of stories embedded in the quilts themselves.  Quilts on display include pictorial narratives, one-patch designs, crazy quilts, cut-outs, star quilts, and signature quilts. "
Unfolding Stories
looks at how various cultures interpret different designs within the quilting tradition," remarked Director of Exhibitions at the Fenimore Art Museum, Michelle Murdock.  "It demonstrates how cultural and cross-cultural connections are made through design processes as well.  Quilts continue to provide visually powerful yet ever-changing texts for us to read, interpret, learn from, andenjoy," Murdock added. Also included are the three award-winning quilts from The Farmers' Museum's 2010
New York State of Mind Quilt Show
.  The exhibition is sponsored in part by Fenimore Asset Management. The exhibition will compliment the many folk art related activities taking place this fall at the Museum including the exhibition
Inspired Traditions: Selections from the Jane Katcher Collection ofAmericana
opening October 1.  Join us across the street at The Farmers' Museum for this year's
A New York State of Mind Quilt Show
- October 8 and 9. The Fenimore Art Museum's 2011
Americana Symposium
will be held on September 30 and October 1.  This new annual event will bring together leading scholars and experts on American history, art, and culture.    Listed in
USA Today
as one of the Top 10 places to see art in small cities, the Fenimore Art Museum offers spectacular art to match its spectacular setting on the shores of Otsego Lake in scenic Cooperstown, New York.  For more information about this and other exhibitions, please visit the Fenimore Art Museum's website:
http://www.fenimoreartmuseum.org/
.
###
Image credit:  
"Trade and Commerce" Quilt Top
Hannah Stockton Stiles (b. 1800), ca. 1835.Possibly Delaware River Valley.  Cotton, cotton chintz.  105 x 89 in. 
Gift of Hannah Lee Stokes
.  Fenimore Art Museum, Cooperstown, New York
Dr. Jacqueline M. Atkins
is the Kate Fowler Merle-Smith Consulting Curator of Textiles at the Allentown Art Museum, Allentown, PA. She has extensive experience working with diverse quilting communities here and abroad in researching quilt history, traditions, techniques, and design. She served as guest curator to the Fenimore Art Museum for its 2004 exhibition of permanent collection quilts at the Tokyo International Great Quilt Festival in Tokyo, Japan. She has carried out research on quilts in the NYSHA collection for several publications as well. Dr. Atkins most recent book,
Quilting Transformed: A History of Contemporary Quilting in America,
examines the themes of this project.
About Fenimore Art Museum
The Fenimore Art Museum, located on the shores of Otsego Lake -- James FenimoreCooper's "Glimmerglass Lake" -- in historic Cooperstown, New York, features a wide-ranging collection of American art including: folk art; important American 18th- and 19th-century landscape, genre, and portrait paintings; an extensive collection of domestic artifacts; more than 125,000 historical photographs representing the technical developments made in photography and providing extensive visual documentation of the region's unique history; and the renowned Eugene and Clare Thaw Collection of American Indian Art comprising more than 800 art objects representative of a broad geographic range of North American Indian cultures, from the Northwest Coast, Eastern Woodlands, Plains, Southwest, Great Lakes, and Prairie regions. Founded in 1945, the Fenimore Art Museum is NYSHA's showcase museum.
http://www.fenimoreartmuseum.org/
Contact
: Todd Kenyon, Public Relations New York State Historical Association Fenimore Art Museum/The Farmers' Museum Phone: (607) 547-1472 / E-mail:
t.kenyon@nysha.org