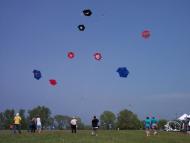 Oswego, N.Y.
- On Saturday, Sept. 8, from 10 AM to 4 PM, the Friends of Fort Ontario will host an Arts, Crafts, and Kites Festival on the spacious and historic grounds outside the old fort.  The Oswego Valley Railroad Museum will set up a display of trains in the Enlisted Men's Barracks, and the Museum Shop will be open for t-shirts, mugs, books, and other gifts.  Candles, pottery, face painting, goat milk soap, jewelry, weaving demonstrations, and music will be featured; food and refreshments, including baked goods, will be available for sale;  picnicking on the grounds is encouraged.  Space at a reasonable rate is still available for Crafters, Artists, and not-for-profits interested in setting up; contact Gail Goebricher at
(315) 343-6992
or
joshcat@verizon.net
.  Admission to the festival is free, but normal admission fees to the old fort will be charged.  Kite experts from around the United States and Canada, including noted Kite Historian Thom Shanken and NYKE (New York Kite Enthusiasts), will be on hand to assist kite fliers of all ages and abilities with their kite flying.  Kites up to 450 square feet with 150-foot tails will be featured at the festival and will be visible from miles around.  The public is invited to bring their kites to fly and take part in the Rokkaku Kite Battle, the Running of the Bols, and the kid's favorite candy drop. Kites, including micro kites (5 inches diameter), rotating box kites, shaped kites, and balsa wood gliders, rubber band powered helicopters, parachute balls, and other nostalgic flying toys will be available for sale.  AmeriCorps staffers Ian Mumpton and Steve Woods will conduct a variety of historic activities and demonstrations for children as well as assist young kite fliers.  Tickets for the fort's annual Ghost Tours on Oct. 19 and 20 will go on sale at the Sept. 8 festival.  Fort Ontario State Historic Site is located at the north end of East 4
th
Street in the City of Oswego.  There is plenty of free parking at or around the fort.  No public vehicle access to the parking lot overlooking the lake will be allowed as a safety measure for kite fliers and children.  For information on Fort Ontario e-mail Paul Lear at
Paul.Lear@parks.ny.gov
.
###
Photo caption:
Kites will fill the skies over Fort Ontario in the City of Oswego during the September 8
th
 Arts, Crafts, and Kite Festival.  The Fort Ontario event is one of the largest gatherings of kite fliers in State of New York.
Contact:
Paul Lear, Historic Site Manager, Fort Ontario State Historic Site  
(315) 343-4711