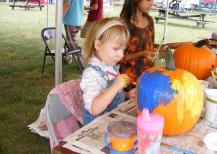 Wilmington, N.Y.
- You're invited to attend the 7th Annual Festival of the Colors from 10:00 a.m. to 5:00 p.m. on Saturday, September 11, 2010 on Springfield Road in Wilmington.  This multi-hued event is a traditional hometown celebration of autumn, with live entertainment, local arts, crafts, photography, furniture, fresh produce, and homemade baked goods - including the popular pie baking contest!  Kids will enjoy a number of free activities, games, and special guest appearances from Santa's Workshop characters.   In addition, winning bids for the "Chairs of Wilmington" project will be announced during the festival.  The project comprises 17 chairs, uniquely decorated by local artists partnering with community youth, and sponsored by local businesses, with all proceeds to benefit the Wilmington Youth Center. The chairs are located at sponsor businesses throughout Wilmington, and a map and silent auction bid instructions are available at the Whiteface Mountain Regional Visitors Bureau office. For more information, contact the Whiteface Mountain Regional Visitors Bureau at 518.946.2255, 
info@whitefaceregion.com
, or visit 
whitefaceregion.com
.                                                                   ### PHOTO: Children enjoy a variety of activities, games and special guests at the annual Festival of the Colors in Wilmington.
CONTACT
:  Michelle Burns Whiteface Mountain Regional Visitors Bureau 518.946.2255
info@whitefaceregion.com
Kimberly Rielly, director of communications Regional Office of Sustainable Tourism/Lake Placid CVB 518.637.6559
kim@lakeplacid.com