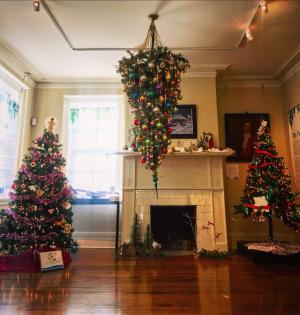 Schenectady, NY – We could all use a little extra cheer this holiday season. Most of us are sticking close to home this December, celebrating with those who live close by. The Festival of Trees brings wintry brightness to our community during this difficult time, by offering a safe, socially-distant, and glittering celebration of the holidays. Hosted jointly by the Schenectady County Historical Society and YWCA NorthEastern NY, the Festival of Trees features dozens of lighted fir trees, each decorated in eccentric to classic styles, with their own evocative flair.

"We're thrilled to have such incredible community participation this year, and I'm astounded by the positivity and creativity that local organizations have brought to our galleries. Community participation is the heart and soul of this event, and they've truly transformed the galleries," notes SCHS Executive Director, Mary Zawacki. "It comes at a time when we need all the cheer that's out there. Being able to safely host this annual favorite is something I've been hoping for all year, and I look forward to welcoming our community through the doors, ushering them into such a festive space. I hope it brings lightness and some sense of "togetherness" into these dark times. Certainly the feedback we've received on Facebook so far indicates that the community is ready and excited for the Festival of Trees!"

"Because we haven't been able to host many of our signature programs this year, I'm so pleased to be able to end 2020 with one of my favorite events," added Michael Diana, the SCHS Education & Programs Manager.

The Festival of Trees glows with the enchantment of Christmas and the winter Solstice. Over fifty sponsors from local businesses and non-profit organizations have come together to turn the galleries of SCHS and YWCA into lands of wintertide enchantment. Featuring over sixty artistically trees decorated fir trees, The Festival of Trees is a glittering blend of wit and whimsy. Since 2007 the Festival of Trees has offered the community an opportunity to be creative with tree decorations. This year's Festival includes SCHS' signature upside down chandelier trees, an eco-art tree, and dozens of firs adorned with birds, origami, Victorian-era ornaments, vintage toys, and more.

SCHS and YWCA invite the community to take part by safely strolling the magnificently lit galleries and enjoying a bit of hometown cheer. We'll see you this December for a shimmering, festive season that's sure to delight guests of all ages! 

When and Where?

The Festival of Trees runs daily from December 5 to December 30, 10am-5pm. Admission is $6, free for children under 12. Masks are required for entry, and must be worn at all times. SCHS and YWCA reserve the right to limit the number of people admitted per hour. More information about the Festival of Trees is available at schenectadyhistorical.org.
What's the Festival of Trees all about?

The Festival of Trees a fundraiser for, and a partnership between, the Schenectady County Historical Society and YWCA NorthEastern NY. Proceeds of the festival benefit the numerous programs and services provided by both non-profit organizations.Beyond providing a seasonal event for Schenectadians to enjoy as part of their holiday activities, the Festival of Trees is a fundraiser for the two non-profits.


About SCHS

The Schenectady County Historical Society is a private, not-for-profit organization with the mission to share stories, inspire dialogue, and encourage understanding of the history, people, and cultures of Schenectady County. SCHS brings to life the region's dynamic history through interactive exhibits, talks, concerts, education programs and community events for all audiences at the Mabee Farm Historic Site, the Grems-Doolittle Library, the Schenectady History Museum, and Brouwer House Creative. We remain open by appointment during the pandemic.
###
Contact:
Mary Zawacki, Executive Director
director@schenectadyhistorical.org // 518.595.9996
32 Washington Ave, Schenectady, NY 12305