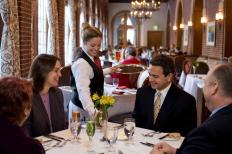 Event March 14-27, 2011 Includes Two Full Weekends in Early Spring
Newburgh, N.Y.
- Hudson Valley Restaurant Week 2011, March 14-27, is the perfect time to indulge in world-class dining at bargain prices while exploring New York's scenic Hudson River Valley. This culinary extravaganza runs a full 14 days, including two weekends, making it tantalizing for those looking for a tasty getaway. Participating restaurants will offer three-course prix-fixe dinners at $28 and three-course lunches at $20. Now in its fifth year, Hudson Valley Restaurant Week demonstrates why the Hudson Valley has become one of the nation's most talked about dining destinations, according to Janet Crawshaw, Hudson Valley Restaurant Week organizer and publisher of
The Valley Table
magazine.
The Valley Table
is the recognized print authority on all things food-related in the Hudson Valley,
http://www.valleytable.com/
. "The Hudson Valley enjoys a vibrant food scene," said Crawshaw.  "The region is a nationally recognized center for food and agriculture and home to the country's foremost cooking school, celebrated artisanal cheese makers, world-class wineries and distilleries, and some of the best chefs in America." A jaunt to the region can easily become a gastronomic adventure. To whet the appetite, visitors to the Valley during Restaurant Week can enjoy relaxing in an elegant spa, antiquing in quaint river towns, sampling wines and beers at local vineyards and breweries, tasting cheeses and other locally-produced foods at regional farm markets, and catching the first sap run at maple-sugaring operations.  Many may want to include a tour of the Culinary Institute of America on their itineraries. Because of the Valley's strong agricultural base, the use of locally-produced ingredients on Restaurant Week menus is part of the event's appeal. "Chefs go all out to use ingredients produced in the Hudson Valley, from venison, duck and heritage pork to artisanal cheeses," Crawshaw says. "Our chefs find both inspiration and amazing ingredients in the surrounding farms, orchards and vineyards." During Restaurant Week, Hudson Valley travelers can dine in a wide variety of wonderful settings. Consider Tavern at Highlands Country Club in Garrison, offering an elegant country atmosphere with antique tables and a blazing fireplace. Or experience the Village Tearoom in New Paltz, located in a landmarked building where hand-hewn beams lend antiquity and charm to the dining experience. At the acclaimed Restaurant 42 atop the Ritz-Carlton Hotel in White Plains, diners can enjoy new American cuisine and spellbinding 360-degree views. American Bounty, a popular dining spot at the Culinary Institute of America in Hyde Park, offers imaginative global cuisine in an award-winning restaurant. Renowned haute cuisine awaits discriminating palates at Escoffier, also in Hyde Park. If you crave spectacular river views to go along with great food, choose from among the many restaurants offering riverfront dining, such as Harvest on Hudson in Hastings, Red Hat in Irvington, Half Moon in Dobbs Ferry or the dramatic Xaviars X20 in Yonkers, with 25-foot vaulted ceilings and views down river to the Manhattan skyline. Many participating restaurants are located near train stops on Amtrak or Metro-North railroads, including Iron Horse Grill in Pleasantville and Via Vante! in Mt. Kisco that are both in old train stations.  Red Devon and Stissing House can be found in the rolling hills of Dutchess County hunt country, while some new culinary gems lie to the south with Mima in Irvington, Restaurant North in Armonk and The Cookery in Dobbs Ferry. The 2010 event drew more than 200,000 diners, who discovered new culinary experiences at 140 restaurants in this wonderfully scenic region just north of New York City. To consult the growing list of restaurants participating in Hudson Valley Restaurant Week 2011, as well as hotels offering special rates, go online to
http://www.hudsonvalleyrestaurantweek.com/
. To obtain a free Hudson Valley travel guide, call 1-800-232-4782. Online tourism resources include
http://www.travelhudsonvalley.com/
,
http://www.hudsonrivervalley.com/
and
http://www.hudsonriver.com/
. * * * * *
Travel to the Hudson Valley
By Car
The Hudson Valley is well-served by a network of highways. The New York State Thruway (I-87), the Taconic State Parkway and I-95 are the main North-South routes and I-90, I-84 and I-287 are the main East-West routes.
By Train
Metro-North trains run frequently on three lines from Grand Central Terminal in New York City to Poughkeepsie, Wassaic
and Port Chester. Enterprise rental car pick-up can be arranged at many stations along the way.
Amtrak stops are at New Rochelle, Yonkers, Croton-Harmon, Poughkeepsie, Rhinecliff and Albany.
By Air
Commercial air service brings passengers from all over the country into the Hudson Valley. Airports include Westchester County Airport in White Plains, Stewart Airport in Newburgh, Albany International Airport in Albany, plus LaGuardia, JFK and Newark Liberty Airports.
CONTACT:
Nancy Gold/Joan Grangenois-ThomasThe Gold Standard(914) 232-6583