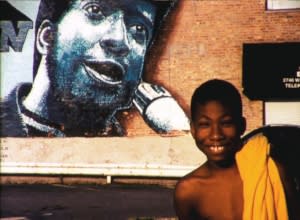 Event launches spring 2018 Whole Grain: Experiments in Film & Video series
Saratoga Springs, NY (February 15, 2018) — Whole Grain: Experiments in Film & Video, the Tang Teaching Museum at Skidmore College's film series, returns Thursday, February 22, with a special presentation with artist and filmmaker Deborah Stratman screening five of her earlier short films and her 2016 feature The Illinois Parables.
The screenings begin at 6 pm and will be followed by a conversation between Stratman and Skidmore College Assistant Professor of English Cecilia Aldarondo. The event is free and open to the public.
The films are:
...These Blazeing Starrs! (2011, 14 minutes, 16mm)
Immortal, Suspended (2013, 6 minutes, video)
It Will Die Out in the Mind (2006, 4 minutes, video)
How Among the Frozen Words (2005, 1 minute, video)
The Magician's House (2007, 6 minutes, 16mm)
The Illinois Parables (2016, 60 minutes, 16mm)
Stratman's work investigates issues of power, control and belief, exploring how places, ideas, and society are intertwined. Her projects have addressed freedom, surveillance, sinkholes, hypnosis, comets, raptors, orthoptera, manifest destiny, infrastructure, levitation and faith. She has exhibited internationally, including at MoMA, Centre Pompidou, Hammer Museum, Mercer Union, Witte de With, and the Whitney Museum, and received Fulbright, Guggenheim and USA Collins fellowships, an Alpert and Sundance Art of Nonfiction awards, and grants from Creative Capital, Graham Foundation, and Wexner Center for the Arts. She lives in Chicago and teaches at the University of Illinois.
Deborah Stratman is being presented in collaboration with the Skidmore College IdeaLab Steering Committee, the John B. Moore Documentary Studies Collaborative (MDOCS), and the Tang Teaching Museum.
For more information, call 518-580-8080 or visit tang.skidmore.edu.
The spring semester of Whole Grain: Experiments in Film & Video continues with the following programs:
Staring Back at the Sun: Video Art from Israel, 1970-2012, Night 1
Wednesday, March 21, 6 pm
Thursday, March 22, 6 pm
The work by 38 artists will be shown over two nights. The first night features Part 1: 1970–80—Early Experiments in Time-Based Art and Part 2: 1980–97—An Art Form Coming Into Its Own. The second night features Part 3: 1997–2005—The Rise of the Medium and Part 4: 2005–12—State of Amnesia: Recent Video from Israel. Avi Feldman, an independent curator and writer based in Tel Aviv, Berlin, and Dresden, will introduce the films and offer a Q&A after the screenings on each night. Feldman is the co-curator of Part 4: State of Amnesia—2005-2012.
Structural Films
Saturday, March 31, 4 pm
The structural film movement, a group of loosely affiliated North American filmmakers, focuses on the material qualities of film and filmic projection, rather than narrative content. This screening includes work by Joyce Wieland, Paul Sharits, Hollis Frampton, and Ernie Gehr.
Recent Work by Ernie Gehr
Thursday, April 5, 6 pm
Legendary avant-garde filmmaker Ernie Gehr will screen and discuss a selection of his recent digital work. 
About Whole Grain
The Tang Teaching Museum's series Whole Grain explores classic and contemporary work in experimental film and video. Whole Grain is programmed by Museum Store and Publications Manager Sean Fuller and Educator for College and Public Programs Tom Yoshikami. All events are free and open to the public.
About the Tang Teaching Museum
The Tang Teaching Museum at Skidmore College is a pioneer of interdisciplinary exploration and learning. A cultural anchor of New York's Capital Region, the institution's approach has become a model for university art museums across the country—with exhibition programs and series that bring together the visual and performing arts with fields of study as disparate as history, astronomy, and physics. The Tang has one of the most rigorous faculty-engagement initiatives in the nation, the Mellon Seminar, and robust publication and touring exhibition initiatives that extend the institution's reach far beyond its walls. The Tang Teaching Museum's building, designed by architect Antoine Predock, serves as a visual metaphor for the convergence of ideas and exchange the institution catalyzes. The museum is open from noon to 5 pm on Tuesday through Sunday, with extended hours until 9 pm on Thursday, and is closed on Mondays and holidays. More information at tang.skidmore.edu.
Caption information for attached image:
Film still of Deborah Stratman's The Illinois Parables, 2016
Media contact
Michael Janairo, Assistant Director for Engagement
Tang Teaching Museum at Skidmore College
518-580-5542