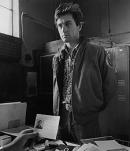 Rochester, N.Y.
- The Dryden Theatre at George Eastman House kicks off 2010 with some great film series, including a look at the collaborations between Robert DeNiro and Martin Scorsese; a series of four films by critically acclaimed director Kathryn Bigelow; and a Rochester exclusive screening of Black Dynamite, a spoof of 1970s low-budget movies.
Dryden celebrates the films of DeNiro and Scorsese
The Dryden Theatre shines a spotlight on the filmmaking relationship between powerhouse actor Robert DeNiro and celebrated director Martin Scorsese, with a film series in January and February titled Eight Portraits of the Obsessive:  The films of Robert DeNiro and Martin Scorsese. "Many fans would consider DeNiro to be Scorsese's most important collaborator, having made eight movies together - all of which focus attention on obsessed characters who vainly try to adjust the world to their vision of how it should be, no matter what destruction it brings," said Jim Healy, assistant curator of motion pictures for George Eastman House. In DeNiro and Scorsese's first collaboration, the semi-autobiographical Mean Streets, the film's principal obsessive, Charlie, is played by Harvey Keitel. The religious and sensitive Charlie is a small-time hood who desperately tries to rein in his best friend (and id) Johnny Boy (DeNiro), an irrepressible and irresponsible prankster who could not care less about his debts to the mob. DeNiro was promoted to leading man for Taxi Driver, and his Travis Bickle, driven to violence he thinks will help purify a trash-filled New York City, is one of the most disturbing characters ever depicted on film. Though prone to volatile moments, Jimmy Doyle, the jazz saxophonist in New York, New York, might be the most likeable character DeNiro ever assayed for Scorsese, but Jimmy's search for a "major chord" keeps him from being happy in his marriage to singer Francine (Liza Minnelli). Likewise, it's an all-consuming but groundless jealousy that destroys the marriage of boxer Jake La-Motta in Raging Bull, still the director and star's most celebrated film together, marking its 30th anniversary this year. Perhaps the most underrated of their combined efforts, The King of Comedy remains the most relevant for today's audiences in its depiction of marginally talented comedian Rupert Pupkin's unstoppable quest for fame through television. After a seven-year hiatus from Scorsese, DeNiro took a secondary role in the now-classic mob epic Goodfellas (celebrating its 20th anniversary in 2010). Though Ray Liotta's Henry Hill provides the film with its comically uninhibited and amoral spirit, it's DeNiro's paranoid thug Jimmy Conway who raises the specter of death.  Cape Fear's revenge-obsessed and Bible-quoting ex-con Max Cady just might literally be the Angel of Death, and DeNiro put himself through a punishing physical regimen that makes the sinewy and tattoo-covered Max all the more frighteningly real. Casino brought Scorsese back into gangster territory for his eighth and (to date) final pairing with DeNiro, whose Ace Rothstein is the classic control freak brought down by loyalty to his less-than-reputable friends and wife.                                                             "These stories of obsession can also be viewed as allegories for the filmmaking process and the director's difficult task of keeping everything under control," Healy said. "Scorsese's reliance on the spontaneous, unpredictable, and often improvisatory behavior of DeNiro offers an example to any single-minded director who might resist creative input from his cast. Scorsese, with his powerful editing, pulsating soundtracks, and constantly roving cameras, will always be a technically dazzling auteur, but he understands that it's the actors' performances that really bring his films to life." The Films of Robert DeNiro and Martin Scorsese will screen at 8 p.m. every Wednesday in January and February: January 6: Mean Streets January 13: Taxi Driver January 20: New York, New York January 27: Raging Bull February 3: The King of Comedy February 10: 20th Anniversary of Goodfellas February 17: Cape Fear February 24: Casino Admission to each film is $7 general admission/$5 students and members. For more information, please visit dryden.eastmanhouse.org or call (585) 271-3361.
Dryden presents four films in January   
The Dryden Theatre presents a series of four films by critically acclaimed director Kathryn Bigelow, titled Bigelow x 4 - including possibly the best-reviewed film released in 2009, The Hurt Locker.  The Hurt Locker, which kicks off the January series (screening Jan. 1 and 3), has just earned Golden Globe® nominations for Best Film and Best Director (Bigelow) and nominations from the Screen Actors Guild Awards for Outstanding Performance by a Cast in a Motion Picture and Outstanding Performance by a Male Actor in a Leading Role (Jeremy Renner).  The Hurt Lockeris the story of an addicted-to-danger bomb-defusing expert (Renner) in the current Iraq War. By bringing an unusual amount of suspense to this well-acted story of men in action, the film not only revitalizes the war movie genre, it also serves to re-introduce audiences to Bigelow's considerable storytelling skills.  "I can't think of a recent film, not even Oliver Stone's Platoon, that has conveyed so vividly what it is to be a soldier today on a front line," noted The Observer (UK), and the New York Daily News called The Hurt Locker, "A movie that deserves to stand as one of the defining films of a decade."  The Dryden will present three more of Bigelow's films the three last consecutive Sundays in January. The Weight of Water (Jan. 17) is Bigelow's dramatic tale of murder and deception, told on two temporal planes, starring Sean Penn and Elizabeth Hurley; K-19: The Widowmaker (Jan. 24) is a Cold War tale of men (including Harrison Ford and Liam Neeson) under pressure during a crisis in a nuclear- powered submarine; and Bigelow's cult classic Point Break (Jan. 31) is another study of adrenaline junkies, this time personified by a group of surfer/bank robbers led by the late Patrick Swayze, in one of his quintessential performances.  Admission to each film is $7 general admission/$5 students and members. For more information, please visit dryden.eastmanhouse.org or call (585) 271-3361.
Dryden presents Black Dynamite Jan. 2 & 3
The Dryden Theatre presents a Rochester exclusive screening of Black Dynamite, a gut-busting spoof of 1970s blaxploitation movies, and low-budget movies in general. The film has been heralded as one of the funniest movies of 2009. Black Dynamite (Scott Sanders, US 2009, 90 min.)explodes on the Dryden Theatre screen at 8 p.m. Saturday, Jan. 2 and 5 p.m. Sunday, Jan. 3. The title character and hero (Michael Jai White) is a superspy, super lover, and all-around man of action looking to find out who's behind the criminal syndicate that killed his brother and flooded his neighborhood with heroin and malt liquor. His quest leads him directly to the "Honky House" in Washington.  Los Angeles Times called Black Dynamite, "An enjoyable celebratory ode to a fiercely entertaining counterculture-inspired genre," and The New York Post noted, "A cheerfully affectionate if fit fully amusing spoof of '70s blaxploitation movies, Scott Sanders' Black Dynamite painstakingly nails the cheesy look, music and martial arts moves of the originals." According to New York Daily News, "The details are perfect, from the particle-board sets to the porn-ready score. (And dig those polyester suits.), while The Seattle Times stated, "See this one with a crowd."  Admission to each screening is $7 general admission/$5 students and members. For more information, please visit dryden.eastmanhouse.org or call (585) 271-3361.
# # #