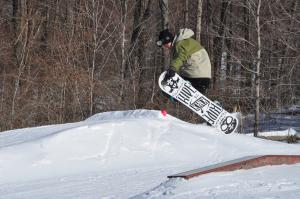 Winter weather transforms the Hudson Valley into the ultimate destination for outdoor fun. 
Orange County, N.Y. (January 14, 2020) – The cold weather is here, so head to the scenic Hudson Valley where snowcapped mountains and freshly-covered slopes await! The opportunities for outdoor fun are endless in Orange County, N.Y. Just an hour's drive from New York City, enjoy ski areas, ice rinks, riding stables, hiking, and mountain biking trails that offer fresh air and family fun.
"Winter weather fun can be found close to home with a trip to one of Orange County's parks or ski resorts. Whether you're a seasoned pro or just looking for a place to escape with the kids, we have just the place for you," said Orange County Tourism Director Amanda Dana. "Orange County is home to acclaimed farm-to-table restaurants and craft beverage locations, and many offer seasonal menus. Head to a nearby locale to warm up after a brisk day outdoors!"
Some great outdoor recreation opportunities in Orange County include:
Make your trip a weekend getaway with an overnight stay at one of the county's cozy B&Bs or select hotels. Head to the Orange County Tourism website at www.orangetoursm.org to discover more must-visit attractions, eateries, and lodging options. Additionally, a fun, free, totally revamped, 55-page travel guide is available for digital download or by request at www.orangetourism.org/travel-guide. The guide highlights Orange County's tourism destinations, as well as suggested itineraries and lodging.
About Orange County Tourism
Orange County Tourism, based in Goshen, N.Y., is the county's tourism headquarters and a participant in the I LOVE NY program. A comprehensive listing of area attractions, lodging, and events can be found at www.OrangeTourism.org. For a free copy of the Orange County Travel Guide, e-mail tourism@orangecountygov.com or call 845-615-3860.
###
Photo features: Mount Peter Ski Area
For more information, contact:
Christine Cordova
Focus Media, Inc.
845-576-2242