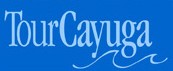 Tour of Cayuga County Planned for April 7 & 8
Cayuga County, N.Y. -
Cayuga County along with 10 other counties in the Finger Lakes have banded together and hired Quinn and Co., a New York City public relations firm to represent the region. Quinn and Co. is a major tourism/travel public relations firm and is responsible for one of the industry's greatest successes ever, "The Best Job in the World" Australian tourism promotion. This promotion was a contest, where the winner would be paid $110,000 for one year to live on the beaches of Australia and blog once a week about their experience.  While not every "PR win" can be as big as "The Best Job in the World," the Finger Lakes tourism agencies are confident they will see big results in the media with Quinn and Co. "When hiring a company like Quinn and Co., you are also paying for their deep relationships with media organizations like ABC, the Food Network and the NY Times, just to mention a few," said Meg Vanek, Executive Director
for the Cayuga County Office of Tourism.  "We hope to use these great connections and build our own through the help of Quinn and Co." she said. The Finger Lakes tourism agencies have had meetings with Quinn and Co. in New York City, and the Quinn group will be coming to the Finger Lakes during the week of April 5
th
to get some first-hand knowledge of everything the region has to offer. Among the places that Quinn representatives will be visiting in Cayuga County are Auburn, Aurora and Fair Haven.  "It's going to be a great experience for them " said Ms. Vanek.  "We can tell them everything we know about Cayuga County but having their entire team come here to experience our great product will be invaluable in the promotion and positioning of our region."  
About the Cayuga County Office of Tourism
The mission of the Cayuga County Office of Tourism is to promote, support, and increase tourism and thereby stimulate economic growth and improve the quality of life of area residents.
Editorial Contact:
Meg Vanek Executive Director Cayuga County Office of Tourism 131 Genesee Street Auburn, NY  13021 (315) 255-1658 e-mail: 
mailto:cctourism@cayuganet.org