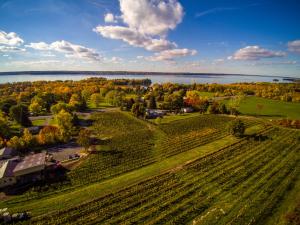 Auburn, NY (July 31, 2023) - Last week, New York's own Finger Lakes were placed #4 on USA Today's list of ten "must-visit" wine regions. The selection process for this list was two-pronged. First, USA Today collected nominees from a panel of wine industry experts. Then, readers cast their votes, selecting favorites from the list of nominees.  
While Cayuga County makes up only a fraction of the wonderful Finger Lakes Region, we are home to more than 10 of the 130 wineries in the area, including award-winners such as Treleaven Wines and Heart & Hands Wine Company. Though our region is often recognized for its world-renowned Rieslings, there is truly something for everyone at our partnered wineries.  
And if wine isn't your thing, that's okay! Our county is home to several craft breweries and cideries as well, all within a close distance to the same breath-taking lake view. 
Each year, we celebrate our county's incredible wineries through Wine & Herb Festival, which runs along the Cayuga Lake Wine Trail in April. This year, the Cayuga Lake Wine Trail—the oldest organized wine trail in the country—celebrated its 40th birthday.  
Our Finger Lakes wineries host events, celebrations, live music, and so much more; and we are proud to have received this nation-wide ranking.   
### 
The Cayuga County Office Convention and Visitors Bureau Inc. was established in 1995 as Cayuga County's official tourism promotion agency. Our mission is to promote, support, and increase tourism, thereby stimulating economic growth and improving the quality of life for area residents. 
Press Contact: 
Ash Murray 
Cayuga County Office of Tourism 
25 South Street 
Auburn, NY 13021
315-255-1658 (ext. 3412)