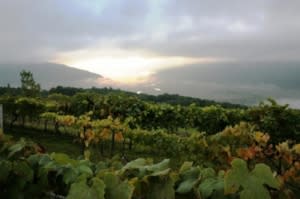 Tops List of Ten Best Wine Regions in the United States
Pittsford, N.Y. - After four weeks of voting by the public, the Finger Lakes Region has been named the best wine region in the United States in the USA TODAY 10Best Readers' Choice Award contest. The Finger Lakes Regional Tourism Council (FLRTC), the official 14-county tourism promotion agency as recognized by I Love NY, was thrilled to receive notice of this honor.
The United States is home to 238 American Viticultural Areas (AVAs), or grape-growing regions as designated by the Alcohol and Tobacco Tax and Trade Bureau. Of these 238 AVAs, a panel of wine industry experts, as well as editors from USA Today and 10Best.com nominated their favorite 20 wine regions across the country. "While California undoubtedly produces excellent wine, it's got stiff competition these days," read the contest description.
Voting for the best wine region was open to the public for four weeks. On August 31, 2018, USA Today 10Best announced the 10 best wine regions, with the Finger Lakes Region landing on top of the list.
"We are ecstatic to be recognized as the best wine region in the country," explains Lisa Burns, Executive Director of the Finger Lakes Regional Tourism Council. "The Finger Lakes wine and tourism industry generates $2.8 billion on an annual basis. This national honor represents the region's 130+ wineries, five wine trails, and 60,000 diligent, hard-working residents."
The Finger Lakes Regional Tourism Council
The breathtaking Finger Lakes takes its name from eleven lakes spanning the region like a giant handprint, stretching from its easternmost point in Onondaga County to its westernmost border in Livingston County, near Letchworth State Park. Boasting a mix of nature trails and natural beauty, wineries and breweries scattered across the region, and quaint villages close to large metropolitan areas, the Finger Lakes Vacation Region has a plethora of tourist attractions within its borders.
In January 2014, the 14 Official County Tourism Promotion Agencies of the Finger Lakes Vacation Region formed a 501(c)(3) organization known as the Finger Lakes Regional Tourism Council (FLRTC). The FLRTC Board includes representation from all 14 TPAs and counties: Cayuga, Chemung, Cortland, Livingston, Monroe, Onondaga, Ontario, Schuyler, Seneca, Steuben, Tioga, Tompkins, Wayne and Yates. For information about attractions and events throughout the Finger Lakes region, visit www.fingerlakestravelny.com or call 1-888-408-1693. 
###
Media Contact:
Lisa Burns
Executive Director, FLRTC
O: 585-484-8844
C: 585-410-1528