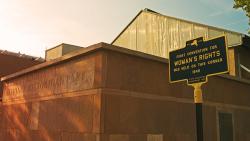 Regional Tourism Council recognizes Women's History Month with historical ties and modern activities 
Pittsford, N.Y. - Women have had a powerful history in the Finger Lakes Region, making their mark in the area since 1848, when the first Women's Rights Convention was held in Seneca Falls. It is often known as the birthplace of the American Women's Rights Movement, as well as home to notable figures like Susan B. Anthony, Elizabeth Cady Stanton and Matilda Joslyn Gage.
2017 marks the 100th anniversary of women's suffrage in New York State. This month, during National Women's History Month, the Finger Lakes Regional Tourism Council (FLRTC) is recognizing and celebrating the women of our history, and of modern day. The FLRTC, as the official promotion organization for the 14-county Finger Lakes Region, has released a list of activities for locals and travelers alike, to learn from the rich history and modern marvels of American women in the area. 
See the list online at www.fingerlakestravelny.com or read on: 
For those looking to celebrate in a modern way:
For history buffs, the Finger Lakes is home to many historical landmarks and homes, including:
More fun facts on how the region has supported the growth of women:
"The Finger Lakes is home to many creative, talented, and legendary women who give us many reasons to be thankful," says Rachel Laber Pulvino, Director of Communications and Public Relations at Visit Rochester. "The history of Susan B. Anthony hit close to home for me this past November, as I watched thousands pay respect at her gravesite in Rochester."
For additional ideas and activities, visithttp://fingerlakestravelny.com/
The Finger Lakes Regional Tourism Council
The breathtaking Finger Lakes takes its name from eleven lakes spanning the region like a giant handprint, stretching from its easternmost point in Onondaga County to its westernmost border in Livingston County, near Letchworth State Park. Boasting a mix of nature trails and natural beauty, wineries and breweries scattered across the region, and quaint villages close to large metropolitan areas, the Finger Lakes Vacation Region has a plethora of tourist attractions within its borders.
In January 2014, the 14 Official County Tourism Promotion Agencies of the Finger Lakes Vacation Region formed a 501(c)(3) organization known as the Finger Lakes Regional Tourism Council (FLRTC). The FLRTC Board includes representation from all 14 TPAs and counties: Cayuga, Chemung, Cortland, Livingston, Monroe, Onondaga, Ontario, Schuyler, Seneca, Steuben, Tioga, Tompkins, Wayne and Yates. For information about attractions and events throughout the Finger Lakes region, visitwww.fingerlakestravelny.com or call 1-888-408-1693. 
Media Contact:
Nicole Mahoney
Regional Director, FLRTC
585-451-0050