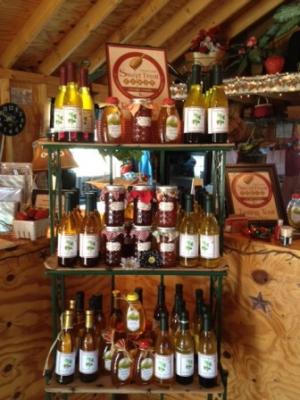 June 2nd at Finger Lakes Art Council
May 22, 2017– Auburn, NY - The 2017 Finger Lakes Sweet Treat Trail will kick-off on June 2 from 5 – 8 pm at the Finger Lakes Arts Council, 101 Genesee Street in downtown Auburn, a community open house coordinated by the Auburn Downtown BID. The Finger Lakes Sweet Treat Trail will offer complimentary samplings of some of their locally produced sweet treats such as baked goods, jams & jellies, honey and maple syrup from many of the 20 sweet spots on the Trail.  The 2017 Finger Lakes Sweet Treat Trail Brochure & Pass to all of the participating sites as well as free trail tote bags will be available for pick up at the event so you can start planning your own personal tasty tour!
Following the kick-off will be a week-long 'Spring Fling' of special offers from June 2-9 at each of the Sweet Treat Trail sites.  Special offers include:
·      Free cup of Paul de Lima Coffee with any purchase at Karen's Country Confections
·      Drawing for a Farmers Market basket at the Aurora Farmers' Market
·      10% off purchase at Standing Stone Honey
·      Free wine tasting at The Apple Station
·      Two for one baked goods at Village Market, Aurora
·      Free rhubarb – cinnamon muffin with any purchase at Morgan's Half Acre
·      10% discount on baked goods at Bradford Heights Delights
·      Free cup of coffee with purchase at Auburn Farmers' Market
·      Mini pixie cookie sampler at King Ferry Corner Store
·      Reese's Dairy Bar raffle
·      $2.00 off purchase plus free tastings at Strawberry Fields
·      Free country breakfast with purchase of similar breakfast at New Hope Mills Store and Café
·      Raffle drawing at Carolyn's Creations
·      BOGO on tasty Italian Ice and Ice Cream at Muzzi's D'Italia Ice
·      $2.00 off purchase at The Produce Place
·      Free cookie at Fly By Night Cookie Company
This year the Sweet Treat Trail will be open June 2 – November 25, covering three seasons of sweet treat goodies from tasty strawberries in June to crisp local apples through November.
Whether it's honey or jam or homemade cookies made with locally grown and produced products, the Finger Lakes Sweet Treat Trail has something to satisfy everyone's sweet tooth!
For more information, contact the Cayuga County Office of Tourism, 131 Genesee Street, Auburn, 800-499-9615
About the Cayuga County Office of Tourism
The Cayuga County Office of Tourism is the designated Tourism Promotion Agency for Cayuga County and promotes the County's attractions, events, and lodging establishments.  For more information visit tourcayuga.com
Editorial Contact:
Meg Vanek
Executive Director
Cayuga County Office of Tourism
131 Genesee Street
Auburn, NY  13021
315-255-1658
e-mail:  meg@tourcayuga.com