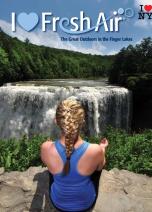 Finger Lakes Counties Launch Print and Online Campaign to Draw Visitors to Region 
Auburn, N.Y.
- The Finger Lakes Region is proud to announce the launch of its "I Love Fresh Air" Campaign, a program that will show off the many outdoor assets the region has to offer.  Cayuga County, along with 12 other county partners, began designing the campaign after receiving a grant through I Love NY (ILNY). Since then, both a magazine and companion website found at
http://www.lovefreshair.com/
  have been created through the program.  The magazine is a high-end publication written by Finger Lakes insiders. It includes a long list of outdoor activities to try while visiting the Finger Lakes, including hiking, biking, fishing, hunting, swimming, skiing, hang-gliding, and many more. The magazine includes mentions and photography from all 13 counties participating in the program. 
LoveFreshAir.com
 compliments the magazine by providing a listing of locations in the Finger Lakes where visitors can find outdoor activities. Broken up by activity and by county, the website provides an easy way to browse through listings based on interest or desired destination. A trip planner allows visitors to the site to save destinations and map out their adventure. A geo location tool has also been built into the site, to give directions and guide visitors who are on the go. The website is available on both desktop and mobile platforms.  This is not the first project the counties have worked on collaboratively. Going into its fourth year is a regional public relations program that promotes the Finger Lakes region as a whole. "Visitors come to this region for everything it has to offer," says
Meg Vanek, executive director, Cayuga County Office of Tourism. 
"They do not stop at a county line, and neither does our program."  Through public relations efforts the Finger Lakes Region has reached over 628 million impressions in 2013, surpassing the 2012 campaign by 15 percent. With the launch of the I Love Fresh Air campaign, interest in the Finger Lakes is expected to increase even more in the coming year. "Getting attention for this region is a team effort" says Meg Vanek, executive director, Cayuga County Office of Tourism.
The Finger Lakes Region
The breathtaking Finger Lakes, takes its name from eleven lakes spanning the region like a giant handprint and boasts a great mix of trails, natural beauty and cities and villages offering treasures of history and culture. For information about attractions and events throughout the Finger Lakes region, visit
http://www.fingerlakestravelny.com/
or call 1-888-408-1693. 
Media Contact:
Meg Vanek, Executive Director Cayuga County Office of Tourism 315-255-1658
meg@tourcayuga.com