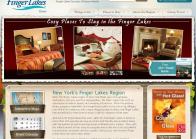 Finger Lakes region, N.Y.
- Finger Lakes Tourism Alliance has been recognized by two different organizations for its redesigned tourism website. The website,
FingerLakes.org
, provides visitor information for the 14-county Finger Lakes region. 
FingerLakes.org 
took the Bronze Medal overall in the Rochester Business Journal's 2011 Best of Web Awards on March 8. It was also awarded top honors in its Hospitality/Tourism category. The Best of Web Awards are presented to acknowledge Rochester's finest business websites. With 33 finalists in 11 categories being honored based on the nature of the business, a panel of judges was selected to choose the websites they felt should receive recognition for their success. FingerLakes.org was also recognized the week prior, when Finger Lakes Tourism Alliance was awarded with The New York State Travel and Vacation Association Tourism Excellence Award for its website redesign in the "Visitor Service" category. This category recognizes tourism entities that have "gone the extra mile" to serve visitors. Finger Lakes Tourism Alliance President Cindy Kimble accepted the honor at The Empire State Tourism Conference, which was held in Albany from March 1-3. The revamped FingerLakes.org was launched in April 2010 in cooperation with county tourism promotion agencies. Rochester-based interactive marketing agency Corporate Communications designed the site. New website features include an interactive map of the region, photo/video galleries, a search tool, and a customizable trip planner. The renovated FingerLakes.org is more attractive, easier to navigate, and more user-friendly than its previous incarnation. FingerLakes.org has been operated by Finger Lakes Tourism Alliance since 1998. "Finger Lakes Tourism Alliance has worked hard to make FingerLakes.org informative to visitors and useful to our many tourism partners," said Kimble. "We are proud to see the site being recognized."
### 
About Finger Lakes Tourism Alliance
Finger Lakes Tourism Alliance (FLTA) was founded in 1919, making it one of the oldest destination marketing organizations in the nation. It is an association of private-sector attractions, tourism-related businesses, and county tourism offices working together to enhance and promote visitor business for the 9,000 square-mile region. FLTA also maintains http://www.fingerlakes.org/, the region's most popular website for tourists interested in the Finger Lakes of New York State.
Contact
: Sarah Osterling, Finger Lakes Tourism Alliance (315) 536-7488
saraho@fingerlakes.org