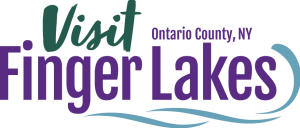 Canandaigua, NY – Finger Lakes Visitors Connection, the official tourism promotion agency for Ontario County, has created an Ontario County biking guide section of their website, VisitFingerLakes.com/Biking. The site has downloadable maps for biking locations around Ontario County, from hills to trails to rides with lake views.
"As spring brings warmer weather to the Finger Lakes, we want to remind our visitors and residents of the bike-friendly network we have in Ontario County," said Valerie Knoblauch, president and CEO of Finger Lakes Visitors Connection. "It's more important than ever to keep your body moving, and as long as social distancing requirements are met (keeping at least six feet between you and another person), getting outdoors is a great thing."
Ontario County is well-equipped to welcome cyclists, with two full-service shops – Geneva Bicycle Center and RV&E Bike & Skate in Canandaigua – that offer rentals, tune-ups and friendly advice on where to ride. Geneva Bicycle Center even leads a free women's ride on Saturday mornings when the weather is warm enough.
Ontario County's bike-friendly network of country roads, with wide shoulders and little traffic, as well as a variety of off-road trails for mountain bikes is ideal for any biking skill level.
To learn more about Finger Lakes Visitors Connection's list of biking opportunities, go to www.VisitFingerLakes.com/Biking.
Photo Caption: Ontario County has a number of bike trails available for a variety of skill levels. Here, bikers enjoy the scenic views of Honeoye Lake.
-30-
Finger Lakes Visitors Connection has been the official tourism promotion agency for Ontario County for the past 35 years. Its mission is to create visitorship and economic vitality for Ontario County by marketing its tourism assets and positioning the area as a premier leisure and meetings destination. For more information on FLVC, call (585) 394-3915 or go to VisitFingerLakes.com.
MEDIA CONTACT
Christen Smith, Director of Marketing and Communications
Cell: (585) 773-8535