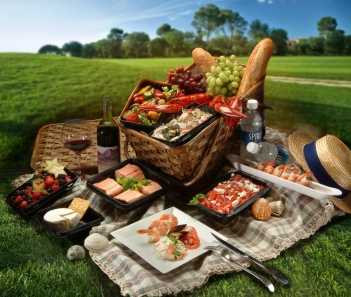 Extend your "tastings" beyond the wineries while visiting Upstate New York
Auburn, N.Y.
- July is National Picnic Month which means another great excuse to spend time with friends and family while enjoying some of the freshest in-season foods. Cayuga County Tourism recommends five unique food stops near the Finger Lakes Wine Trails to fill up a picnic basket or appetite.
Off-the-beaten path ideas for "foodies"
Finger Lakes Cheese Trail (King Ferry):
Find out how cheese is made on a farm tour. The Finger Lakes Cheese Trail introduces visitors to area cheese makers like Finger Lakes Dexter Creamery (
http://www.fingerlakesdextercreamery.com/
) that use fresh, farmstead raw milk to make artisan cheese. Talk with the cheese makers and taste samples at no cost. Toss some Kefir Blue into your basket and pair with fruit, bread or salad.
Elderberry Pond (Auburn):
Stop by Elderberry Pond
http://www.elderberrypond.com/index.html
, a 100-acre certified organic farm that specializes in unique foods and recipes that are prepared based on what is available from the farm that day. Let one of the professional chefs cook for you, or visit the on-site country store and pick up produce, meats, ready-made salads and soups to take on the go.
Fly By Night Cookie Company (Fair Haven):
Why save dessert for last when more than 65 varieties of homemade cookies and pastries are made fresh and served daily? Mouthwatering Fly By Night Cookie Co. (
http://www.fairhavenny.com/cookiecompany/
) uses local ingredients to make everything from fresh fruit tortes, cheese cakes, éclairs and mini pocket pies. Stay and cook with the head "cookie" during a kitchen internship that introduces new skills, tips and tricks behind the oven.
Bet the Farm (Aurora):
Pick up an already prepared basket at this specialty wine and gourmet market in the village of Aurora. Hand-crafted wines, chocolates, dipping sauces, granola, pasta and pesto are just a few of the tasty goods featured from small food producers across the state. Plan to stay for tastings.
Local markets (Moravia, Sterling)
: This time of year, farmers markets in Auburn, Moravia, Locke, Port Byron and Sterling are abundant with local fruits, vegetables, honey, jams and cheeses. Ask local growers for their recommendations on how to prepare the ripest vegetables such as home grown corn and even what to serve with them. "Now is the perfect time to pack a picnic and explore the many lakes, vineyards and pristine parks found in the Finger Lakes-all while tasting the freshest foods," said Meg Vanek, Executive Director, Cayuga County Tourism. "Toss a blanket in the car and plan a summer visit during one of the many outdoor concerts, fireworks displays or special events that have packed our tourism calendar this summer." For more information about food, wine and summer attractions along the Finger Lakes visit
http://www.tourcayuga.com/
.
About the Cayuga County Office of Tourism                                                                 
The Cayuga County Office of Tourism is the designated Tourism Promotion Agency for Cayuga County and promotes the County's attractions, events and lodging establishments. For more information call 315-255-1658/800-499-9615 or visit www.tourcayuga.com.
###
Contact:                                                                                                             
Meg Vanek 315-255-1658                                                                                                                                                  
meg@tourcayuga.com