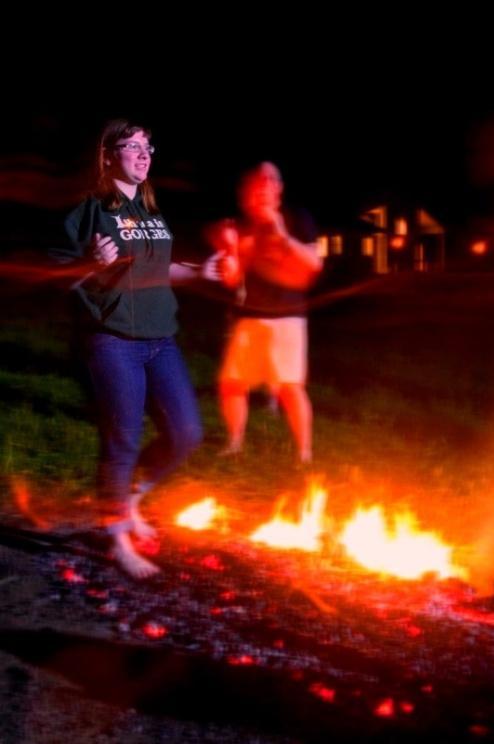 Ithaca, N.Y. -- Forget refried festivals and tepid staycations. Visitors to Ithaca are igniting both spirit and sole this summer at firewalking classes near Cornell University.
"Guaranteed, you'll remember it as one of the most exciting and fun nights of your life," said instructor Tony Simons. "Many walkers experience permanent, positive changes in their outlook."
Simons' three-hour classes begin with a workshop of confidence-building exercises that prepare participants for the fiery challenge. When ready, they kick off their shoes for a 10-foot stroll through a bed of 1,200-degree coals.
"With proper training, almost anyone can do it," Simons said. "But you don't want to try it at home. You have to know what you're doing to manage the risks."
Simons, who took up firewalking in 2007, has led hundreds through the coals without incident. When not instructing firewalkers, he leads motivational seminars nationwide and works as an associate professor of management leadership at Cornell's School of Hotel Administration.
Ithaca's firewalk weekends are scheduled July 2, July 23, Sept. 2 and Oct. 8. Classes are $75 per person. Space is limited and reservations are required. Additional dates and group rates are available. Information: www.IthacaFirewalks.com.
Overnight visitors will find convenience and savings of 10-20% by booking a Firewalk Weekend Package from any of three Ithaca inns.
Amazing Grace B&B "Flow Arts Fire Magic"
Amazing Grace B&B, a beautifully restored 1836 farmhouse known for sumptuous organic breakfasts and horse adventures, offers the ultimate pyro package with its "Flow Arts Fire Magic & Campfire Getaway." The three-night adventure, June 30-July 2. includes a community fireworks display Thursday, a private campfire performance by Flow Arts Fire Magic Friday and a firewalking workshop for two Saturday. Price: $540 per couple including breakfasts and local transportation. Other packages start at just $245. Info and reservations: (607) 539-1163, aaswan@frontiernet.net,
La Tourelle Resort & Spa Firewalk Weekend for Two
Includes two nights in a luxurious king room with breakfast for two (both days), firewalking experience for two, local transportation, $100 credit at August Moon Spa and a complimentary foot massage/paraffin dip. Bonus: a complimentary bottle of Finger Lakes sparkling wine to celebrate your achievement. $598 per couple. Info & reservations: (800) 765-1492, info@latourelle.com,www.latourelle.com.
Stone Quarry House Firewalk Weekends
Elegant solar-powered guest accommodations offering privacy, views and park-like grounds just steps from the firewalk center. Stickley furnishings, Tempurpedic beds, and private kitchens stocked with delicious home-produced local, organic foods. Rates (including firewalks) start at $295 per couple for a one-night stay and $490 for two nights. Info and reservations: (607) 272-0556, nnorton@mac.com, www.stonequarryhouse.com.
A half-day's drive from most of the metro Northeast, Ithaca is a progressive community known for breathtaking gorge waterfalls and liberal thinking. Home to Cornell University and the famous Moosewood Restaurant, the city's culture and dining scene make it an ideal base for any Finger Lakes getaway. Travel and lodging information is available at VisitIthaca.com or (800) 284-8422.
Editors: Hi-Res Images Available
###
Contact
:
Bruce Stoff
Communications Manager
Ithaca/Tompkins Convention & Visitors Bureau
(607) 272-1313
Bruce@visitithaca.com