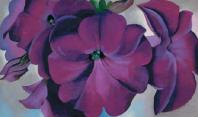 Glens Falls, N.Y. -
The Hyde Collection announces the opening of its groundbreaking summer exhibition entitled Modern
Nature: Georgia O'Keeffe and Lake George.
 The exhibition, which opens on June 15, 2013, is the first to explore the formative influence of Lake George on the art and life of Georgia O'Keeffe (1887-1986).
Modern Nature 
is curated by Erin B. Coe, Hyde chief curator, and Barbara Buhler Lynes, former curator of the Georgia O'Keeffe Museum, and organized in association with the Georgia O'Keeffe Museum in Santa Fe, New Mexico.  It will premiere at The Hyde Collection from June 15 - September 15, 2013, and travel to the Georgia O'Keeffe Museum in Santa Fe from October 4, 2013 - January 26, 2014, and to the Fine Arts Museums of San Francisco, de Young Museum from February 15 - May 11, 2014. From 1918 until 1934, O'Keeffe lived for part of each year at Alfred Stieglitz's (1864-1946) family estate on Lake George in New York's Adirondack Park. The 36-acre property was situated just north of Lake George Village along the western shoreline. It served as a rural retreat for the artist, providing the basic materials for her art, while evoking the spirit of place that was essential to O'Keeffe's modern approach to the natural world. During this highly productive period she created more than 200 paintings on canvas and paper in addition to sketches and pastels, making her Lake George years among the most prolific and transformative of her seven-decade career. This period also coincided with O'Keeffe's first critical success and emergence as a professional artist; yet, Lake George is often portrayed as an annoyance from which she tried to escape. "O'Keeffe's Lake George paintings have been included in numerous exhibitions, but the exhibition
Modern Nature
offers an unprecedented opportunity to intimately connect the works to the environment that conditions that inspiration," explained Coe. Through a selection of approximately fifty-eight paintings on loan from public and private collections, this landmark survey will explore the full range of work produced by O'Keeffe from magnified botanical compositions of the flowers and vegetables that she grew in her garden, to a group of remarkable still lifes of the apples and pears that she picked on the property. O'Keeffe became fascinated with the variety of trees that grew in abundance at Lake George and they were the subject of numerous compositions, as were close-up images of a pair of leaves or an overlapping bed of leaves.  Architectural subjects emerged as another theme, as did panoramic landscape paintings and bold, color-filled abstractions that often visually related to the subjects she was exploring at the time. Major museums across the country are lending works by O'Keeffe to the exhibition including the Amon Carter Museum of American Art, Denver Art Museum, High Museum of Art, The Metropolitan Museum of Art, Museum of Modern Art, National Gallery of Art, Philadelphia Museum of Art, The Philips Collection, Walker Art Center, and the Georgia O'Keeffe Museum. "The Georgia O'Keeffe Museum is thrilled to see this groundbreaking effort to exhibit some familiar and several rarely seen works of Georgia O'Keeffe's Lake George paintings," said Robert A. Kret, director of the Georgia O'Keeffe Museum. "The exhibition demonstrates how this was indeed a positive and transformative period in the artist's life and work." A fully illustrated, 200-page book from the international art publisher Thames & Hudson, also entitled
Modern Nature:  Georgia O'Keeffe and Lake George
,  will accompany the exhibition. The lead essay is written by organizing curator Erin B. Coe, with additional essays by Bruce Robertson, professor, Department of the History of Art and Architecture, University of California, Santa Barbara, and Gwendolyn Owens, Consultant Curator of the Canadian Centre for Architecture, Montreal. The national presentation of
Modern Nature: Georgia O'Keeffe and Lake George
  and its accompanying catalogue have been made possible in part with support from The Henry Luce Foundation and the National Endowment for the Arts. The presentation of the exhibition at The Hyde has received significant support from a wide range of contributors. Glens Falls National Bank and Trust Company is the lead corporate sponsor. Major additional business support has been provided by Behan Communications, Inc.. Significant media sponsorship support has been provided by the Lake George Mirror, the Times Union, and WAMC Northeast Public Radio. Among individual donors, leadership support for this project has been provided by Mr. and Mrs. Anthony Atkiss and Susan and Bill Dake. The exhibition and catalogue have also received foundation support from the Charles R. Wood Foundation, the Robert Lehman Foundation, and Furthermore, a publishing program of the J.M. Kaplan Fund. The project also received major grants from the New York State Council on the Arts and the I Love NY program, through the Capital Regional Economic Development Council, and funding for tourism promotion from Warren County, New York. For more information on the exhibition, please contact Alice Grether, Director of Marketing, Communication and Visitor Services, at
agrether@hydecollection.org
or 518-792-1761, ext. 328.
Note to editors:
 When requesting images(s) for
Modern Nature
, a rights and reproduction agreement procedure is dictated by the terms of the lending institutions.
Image
: Georgia O'Keeffe, American (1887-1986), Petunias, 1925, oil on hardboard panel, 18 x 30 inches, Fine Arts Museums of San Francisco. Museum purchase, Gift of the M. H. de Young Family