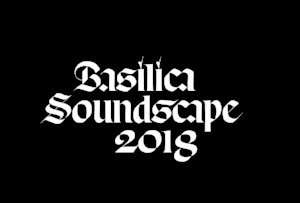 Haxan Cloak x Nick Zinner, Grouper, Wax Idols, Spellling, Lightning Bolt and L'Rain among first names announced for Basilica SoundScape
HUDSON, NY - Multidisciplinary arts center Basilica Hudson has announced the first round of artists for its annual Basilica SoundScape festival of music and art, with Haxan Cloak x Nick Zinner, Grouper, Spellling, Lightning Bolt and L'Rain among the highlights. Now in its seventh year, the event - which is programmed in collaboration with The Creative Independent and Varyer - will feature a lineup of innovative and independent artists from music, art and literature.

Set against the raw, industrial backdrop of Basilica Hudson's solar-powered reclaimed factory, with the spectacular Hudson River and Catskill Mountains on the horizon, Basilica SoundScape offers a thoughtful weekend of music and art, with a focus on unique collaborations across disciplines.

Basilica SoundScape will feature the US premiere of "Un Vide Dans Le Ciel", a major 35 minute three movement work for large symphony orchestra written by Stephen O'Malley - co-founder of the group Sunn O))) - and orchestrated together with Eyvind Kang. "Un Vide Dans Le Ciel" was originally commissioned by Winnipeg Symphony Orchestra for their 2016 New Music Festival. SoundScape will be the second public performance worldwide. The piece will be conducted by James Bagwell and performed by The Orchestra Now (TŌN), a group of international vibrant young musicians in residence at Bard College's Richard B. Fisher Center for the Performing Arts.

Further collaboration will come in the form of producer Haxan Cloak, who returns to Basilica SoundScape in a collaborative project with Yeah Yeah Yeahs' Nick Zinner.

Highly praised for her uniquely bleak and beautiful music, Portland OR solo artist and producer Grouper will also perform. Her eleventh solo album Grid of Points has just been released. The lineup will also feature the solo project of Godspeed You! Black Emperor's Efrim Manuel Menuck.

A strong focus on innovative emerging talent is also at the core of Basilica SoundScape. 2018's lineup will feature a genre-spanning array of artists, from instrumental cinematic doom duo Insect Ark to the dusky R&B loops of Tia Cabral's Spellling; L'Rain's experimental blend of jazz, R&B, pop, and rock; and the dark and anthemic post-punk sounds of Oakland's Wax Idols.

Multimedia South African video artist Tabita Rezaire and Korean American printmaking and textile artist Jungil Hong are among the first names to be announced from Basilica SoundScape's visual art component which has, in previous years, included artists Matthew Barney, Sterling Ruby and Marianne Vitale.

2018's Basilica SoundScape will also see the return of a free Sunday afternoon of art, performance and exchange, organized by Hudson-based writer Shanekia McIntosh.

Alongside The Creative Independent's Brandon Stosuy and Basilica Hudson co-founders Melissa Auf der Maur and Tony Stone, Basilica SoundScape will also feature additional creative direction from long-time visual and design director of SoundScape, and former Pitchfork Creative Director Mike Renaud - now head of Chicago-based integrated creative studio Varyer, who are formally joining the team as co-presenters of the event. SoundScape 2018 will also feature the talents of two guest collaborators, author Jenn Pelly (Pitchfork, 33 ⅓: The Raincoats) and head of Sacred Bones Records Caleb Braaten.

Tickets
Earlybird advance tickets for Basilica SoundScape are available at basilicahudson.org for $60 + fees.

Lineup
Efrim Menuck / Grouper / Haxan Cloak x Nick Zinner / Insect Ark / Jungil Hong / Lightning Bolt / L'Rain / Shanekia McIntosh / Spellling / Stephen O'Malley's Un Vide Dans Le Ciel / Tabita Rezaire / Usnea / Wax Idols / more artists to be announced

ABOUT BASILICA SOUNDSCAPE
Far from a typical music festival, Basilica SoundScape features live concert performances, conceptual sound performances, author readings, installations, collaborations, curated local vendors and artisans, on-site activities and more, creating an immersive, innovative weekend of art, music, and culture. Basilica SoundScape features a lineup of some to the most innovative and genre-pushing musicians, visual artists and writers working today, with unique collaborations across disciplines. It is curated by Basilica Soundscape co-founders Melissa Auf der Maur, Tony Stone, and Brandon Stosuy, with creative direction from Mike Renaud, along with the added talents of Jenn Pelly and Caleb Braaten.

Past artists includes John Maus, Zola Jesus, Moor Mother, Jlin, Marianne Vitale, Emma Kohlmann, Richard Hell, Gamelan Dharma Swara, Tim Hecker, Swans, Matthew Barney, Gang Gang Dance, Liturgy, Julianna Barwick, Dan Colen, Sterling Ruby, HEALTH, Perfume Genius, Pharmakon, Guardian Alien, Deafheaven, Jenny Hval, The Haxan Cloak, Cal Lane, Wolves in the Throne Room, Explosions in the Sky, Angel Olsen, Genesis Breyer P-Orridge, Amber Tamblyn, Deradoorian and Deantoni Parks.

ABOUT BASILICA HUDSON
Basilica Hudson is a non-profit multidisciplinary arts center supporting the creation, production and presentation of independent and innovative arts and culture while fostering sustainable community. Founded in 2010 by musician Melissa Auf der Maur and filmmaker Tony Stone, Basilica Hudson makes its home in a spectacular solar-powered reclaimed 1880s industrial factory on the waterfront of the historic City of Hudson. Weekend destination events comprise the core of Basilica Hudson's Immersive, avant garde music, performance, film, food and literary programming, alongside regular film screenings series, art exhibitions, and other community gatherings.

Basilica Hudson presents more than 35 programs each season, from one-night screenings to weekend festivals, anchored by major annual events including two music festivals and two large-scale marketplace events, as well as film screening series, art exhibitions, special performances, concerts, and literary and food-related events. The artistic program has taken shape through collaborations with many partners, visiting artists and friends, and is supported by adventurous audiences and community members. Each season, more than 75 local, national and international artists perform and present work at Basilica and 100+ local and regional businesses - farmers, chefs, collectors and makers of all kinds - participate in marketplace events, showcasing the region's artisanal and agricultural heritage. Basilica Hudson welcomes more than 40,000 local, regional and international visitors to programs and events each season.
ABOUT TCI
Launched in September 2016, The Creative Independent is a growing resource of emotional and practical guidance for creative people. TCI is currently Co-founder and Editor in Chief Brandon Stosuy, Senior Editor T Cole Rachel, Creative Content Director Willa Köerner, Associate Editor Hannah Elliott, and Creative Programmer Elliott Radner.

TCI's goal is to educate, inspire, and grow the community of people who create or dream of creating through discussions with working artists leading creative, independent lives. TCI publishes interviews, how-to guides, surveys and worksheets, advice and wisdom and other creative tools; organizes live events and workshops and curates publications that align with our mission. The Creative Independent is ad-free and published by Kickstarter, PBC.

ABOUT VARYER
Chicago-based integrated creative studio that builds partnerships around brave ideas, and works with others to find their most imaginative and focused voice.
 
Visit basilicahudson.org for more information on all upcoming events this season.
Basilica Hudson, The Creative Independent and Varyer present
Basilica SoundScape
A weekend of music + art
Friday, September 14 - Sunday, September 16, 2018
TICKETS | WEBSITE