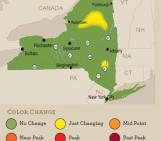 The 2013 Fall Foliage Season in New York State is Under Way!
This is the first 2013 FALL COLOR REPORT for New York State. Reports are obtained from field observers and reflect expected color conditions for the coming weekend. FALL COLOR REPORTS are issued every Wednesday afternoon.
Albany, N.Y. - New York State's colorful foliage season is officially under way as the first significant signs of spectacular fall colors are beginning to appear in the Adirondacks and Catskills regions, according to observers for the Empire State Development Division of Tourism's I LOVE NEW YORK program.
In the Adirondacks, observers based in Old Forge, in Herkimer County, expect 15 percent color change by the weekend with shades of green, gold and burgundy of average brilliance. To the north, in Franklin County, foliage spotters in the Mt. Arab/Tupper Lake area expect 10 to 15 percent color transition with leaves of muted brilliance. Look for touches of mustard, copper and some isolated crimson leaves to provide an impressive early-stage foliage display. In northwest Warren County, spotters based in North Creek are expecting up to 15 percent color change in elevations above 2,000 feet, including in the Upper Hudson River Gorge, Blue Mountain, North Creek and Newcomb. In Indian Lake, in Hamilton County, spotters expect 15 percent color transition by the weekend with the maples and birches showing red and yellow leaves of less than average brilliance.
In the Catskills region, leaf peepers in Saugerties, in Ulster County, expect pockets of up to 20 percent color change by weekend, with bright shades of yellow and gold starting to appear against a mostly green backdrop.
The rest of the state reports 10 percent or less color change.
Get Up-to-Date Fall Foliage Color Reports Online
New York's weekly I LOVE NEW YORK fall foliage color reports begin Wednesday, September 11 and continue until the end of the foliage season, around the first week in November. Each Wednesday afternoon throughout the season, reports are updated online to provide the latest information on foliage color conditions in each region of the state.
The weekly foliage report, a detailed map charting fall color progress, vantage points for viewing spectacular foliage, suggested autumn getaways and weekly event listings are available by visiting the I LOVE NEW YORK web site at www.iloveny.com.
Reports are also available by dialing, toll-free, 800/CALL-NYS (800/225-5697) from anywhere in the U.S., its territories and Canada.
For additional New York fall foliage information including select sneak previews of the week's I LOVE NEW YORK Fall Foliage Report, follow the hash tag: #LoveNYFall on Twitter. Simply type #LoveNYFall into the search box on Twitter and you can access all of the tweets about New York State's fall colors and where to find the best places in the state to see them.
For information on becoming a volunteer Leaf Peeper, e-mail your name, address and phone number to foliage@esd.ny.gov.
About New York State New York State features 11 beautiful vacation regions. New York's attractions span from landmarks such as Niagara Falls, to the wine trails of Hudson Valley and treasures like the Baseball Hall of Fame in Cooperstown. Whether it's wide-ranging outdoor activities for the whole family like fishing, hiking and boating, culinary wonders and farm-to-table fresh foods, or the rich history and culture of one of the 13 original colonies, New York State offers diverse activities for all travelers. For more information, visit http://cts.vresp.com/c/?M.SilverADivisionofF/99939dd23d/8c65d62c4d/39987b34ce. Media can find press releases and more at thebeat.iloveny.com.   Follow the I LOVE NY social media channels for news on tourism in New York State. From NYC to Niagara Falls and all points in between, there's so much to love to LOVE in NY! Check out I LOVE NEW YORK on Facebook, Twitter and Instagram for great ideas for your next getaway.
Follow I LOVE NEW YORK on social media: Facebook: Facebook.com/ILOVENY Twitter: @I_LOVE_NY Instagram: ILOVENY YouTube: YouTube.com/OfficialILoveNY Pinterest: Pinterest.com/ILOVENY Flickr: Flickr.com/OfficialILoveNY  
CONTACT:      
Eric Scheffel
Empire State Development
(518) 292-5274
Melanie Klausner
M. SILVER - A Division of Finn Partners
(212)-754-6500, ext. 243
Melanie.klausner@finnpartners.com
###