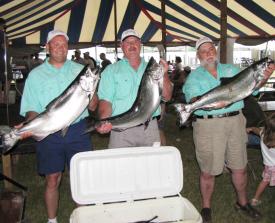 Anglers Have Many Chances to Win This Summer
By Spider Rybaak
Oswego County, N.Y.
-- Fishing is one of America's favorite pastimes. And Oswego County, home to four world class hot spots (Lakes Oneida and Ontario, the Salmon and Oswego Rivers), is one of the most popular fishing destinations in the Lower 48. Lately, a lot of folks have figured out that a properly planned fishing trip to the county's productive waters can lead to money in the bank. Drawing on statistics from the sales of everything from fishing licenses and bait to tackle and boats, independent studies show that roughly 20 percent of Americans fish at least once a year. Most do it for fun and relaxation; some do it for the health benefits of eating fresh fish; increasingly, people are doing it for the bucks. Fishing for dollars has been around for a long time. Surprised? You shouldn't be. After all, fishing relies heavily on luck; the emotional fuel that propels people to gambling casinos, off-track betting, state lotteries...  
Lake Ontario: Bettin' Angler's Honey Hole
Jam-packed with all the popular game fish, the tiniest Great Lake offers numerous competitive fishing events all summer long. Problem is it's loaded with great fishing spots. And like brick and mortar gambling operations, their payouts vary tremendously. Finding the right spot is key to realizing your fishy dreams of wealth and glory.  You see, savvy anglers don't believe in simply handing their fate over to lady luck and spinning the wheel. They play the odds and go where the fish are likeliest to be all the time; places where large feeders flow into the lake, tributaries like the Oswego and Salmon Rivers.  Gallon for gallon, Oswego County's corner of the lake has fulfilled more fishing dreams than any other county on the lake. But don't take my word for it. Check out the list of tournaments below. It's the most exciting menu of competitive angling events in the state.
Pick and Choose
Oswego County's territorial waters are notorious for coughing up world and state records, including the world record coho salmon (a species indigenous to the Pacific Ocean) and the state record brown trout and chinook salmon. So you can bet your last flasher competitors in all the usual tournaments will be trolling around here this summer for derby winners.  Indeed, the venerable 
Lake Ontario Pro-Am Salmon and
Trout Team Tournament, July 10 - 11
(
http://www.lakeontarioproam.net/
)
and the lakewide
Lake Ontario Counties Trout and Salmon Derbies
(
http://www.loc.org/
)
have honored numerous fish from our waters as top prizes in the past. And there are many lesser known, equally exciting derbies to test your luck.  For instance, take the 
10th Annual K&G Lodge All Women's Fishing Tournament,
June 25 - 27 in Oswego (
http://www.kglodge.com/
). Started by a group of charter captains who wanted to get their client's wives interested in fishing, the contest is great for getting ladies into the manly game of trophy fishing. Four-woman teams compete against each other for two days. Trophies are handed out and the women pool their money for a Calcutta prize awarded for the biggest fish.  Another colorful local event is the 
Annual Flea Market, Salmon/Trout Derby and
Chicken BBQ
 hosted Aug. 7 by the Sandy Pond Sportsman's Association (
http://www.sandypondsportsmans.com/
). No serious money involved, just a lot of fun.  
Mike's Little Salmon River Challenge (315-963-3119)
 is a family oriented event. In fact, it's held July 24, the weekend of Harborfest, the city of Oswego's biggest summer extravaganza-it boasts the most explosive fireworks display this side of the Mississippi--a time local folks traditionally set aside for days off. All kids are given a prize.    And you don't have to be a salmon and trout fan to compete, either. 
Sandy Pond Sportsman's Association
(
http://www.sandypondsportsmans.com/
has been hosting bass tournaments in June for years. This year's event is June 26.  
Oneida Lake
 "Bass Masters' recent events on the lake have made Oneida the bass capital of the north," says Rob Goffredo, Fishing/Marine Manager at Gander Mountain, "and there are 56 tournaments already planned for this summer." Spruce Grove and Big Bay Marinas on the north shore will host weigh stations for the 34
th
annual Oneida Lake Walleye Tournament held May 1 and 2 by the Cicero-Mattydale Lions Club.  With all this going on, a fishing trip to Oswego County this summer is sure to be exciting, maybe even profitable. All you need is a few dollars and some luck.  For visitor information and current fishing conditions, call 1-800-248-4FUN (4386) or go to:
http://www.visitoswegocounty.com/
Spider Rybaak is an award-winning outdoor writer who has been published in more than 20 periodicals. He is the author of "Fishing Eastern New York" and "Fishing Western New York" guide books that cover 429 streams and lakes in New York State. Contact him at
srybaak@yahoo.com
. Check out his blog at
http://fishingandhuntinginoswego.blogspot.com/
Photo caption:
 Fishing tournaments like the annual Pro-Am Salmon and Trout Team Tournament bring competition and camaraderie to anglers in Oswego County. Pictured at last year's weigh-ins are Dennis Pefetto, Mark Erho, and Capt. Del Casterline, members of Liquid Plumber team out of Mountaintop, PA.  They won the amateur division at the Oswego event and were the 2009 Lakewide Amateur Challenge Cup Champions. For a schedule of Oswego County tournaments, go to
http://www.visitoswegocounty.com/
###
Contact
: Janet Clerkin Oswego County Tourism and Public Information Coordinator 315-349-8322