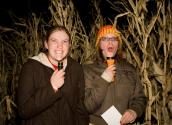 Explore the Fort & its 6-Acre Corn Maze at Night Oct. 19-20 & 26-27
Ticonderoga, N.Y.
- Find your way through the eerie darkness at Fort Ticonderoga's Flashlight Nights, Fridays and Saturdays, October 19 and 20 & October 26 and 27. Bring your flashlight to this family-fun fall event where you will hear the story of Fort Ticonderoga inside the walls of the Fort and use your flashlight to guide your way through the Heroic Corn Maze where a multitude of twists and turns through acres of corn stalks await!  Visit
http://www.fortticonderoga.org/visit/heroic-maze
for more details or call 518-585-2821. Meet historic interpreters in the Fort as they bring to life the often frightening situations they have encountered while serving at this frontier outpost in 1775. Ask them about the bloody 1758 Battle of Carillon and rumors that the bones of men killed in that battle were still visible on the battlefield during the Revolution. Don't let the calm of the night fool you as you walk through dimly lit areas of the Fort and better understand the epic history that surrounds you!  Visitors can also explore Fort Ticonderoga at night in the Heroic Maze: A Corn Maze Adventure located near the Fort's historic Garrison Garden. Navigate through the six acres of towering corn stalks at night! Visitors will find clues connected to Fort Ticonderoga's story as they find their way through the Maze in the blanket of darkness. Will Fort Ticonderoga's unexplained and ghostly past find you in the Maze?  Bring your flashlight and find out! Fort Ticonderoga has a long and often violent history.  Constructed in 1755, the Fort was the scene of the bloodiest day of battle in American history prior to the Civil War when on July 8, 1758 nearly 2,000 British and Provincial soldiers were killed or wounded during a day-long battle attempting to capture the Fort from the French army.  During the American Revolution nearly twenty years later thousands of American soldiers died of sickness while defending the United States from British invasion from the north. Pre-registration is encouraged for this must-experience program. Tickets are $15 for adults and $10 for children 12 years and under. To guarantee a ticket reserve a space for this special program by calling (518) 585-2821. Gates open at 6 pm for Flashlight Nights, October 19 and 20 & October 26 and 27.  Tickets are also available the evening of the program between 6 pm - 8:30 pm; last ticket sold Flashlight Nights will be at 8:30 pm. No exchanges or refunds allowed.  This is a rain or shine event. Beverages and concessions will be available for purchase and proper footwear will be needed to navigate the uneven terrain. Flashlights are required to visit the Maze; please bring your own flashlight. Visit
http://www.fortticonderoga.org/visit/heroic-maze
for more details.
FORT TICONDEROGA
America's Fort
Located on Lake Champlain in the beautiful 6 million acre Adirondack Park, Fort Ticonderoga is a not-for-profit historic site and museum that ensures that present and future generations learn from the struggles, sacrifices, and victories that shaped the nations of North America and changed world history. Serving the public since 1909, Fort Ticonderoga engages more than 70,000 visitors annually and is dedicated to the preservation and interpretation of Fort Ticonderoga's history.  Accredited by the American Association of Museums, Fort Ticonderoga offers programs, historic interpretation, tours, demonstrations, and exhibits throughout the year and is open for daily visitation May 18 through October 18. The 2012 season features the Fort's newest exhibit
Bullets & Blades: The Weapons of America's Colonial Wars and Revolution
which highlights over 150 of the museum's most important weapons and is a comprehensive and expanded reinterpretation of its world renowned historic arms collection!  Visit
http://www.fortticonderoga.org/
for a full list of ongoing programs or call 518-585-2821. Funding for the 2012 season is provided in part by Amtrak.  Visit
http://www.fortticonderoga.org/visit/directions
for a special 2 for 1 Amtrak offer! Fort Ticonderoga is located at 100 Fort Ti Road, Ticonderoga, New York.                                                                                               #            #          #
Photo
:  Flashlight Nights at Fort Ticonderoga, October 19-20 & 26-27
Contact:
Beth Hill 518-585- 2821
bhill@fort-ticonderoga.org