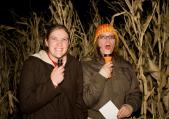 Explore the Fort's Ghostly Past Oct. 21-22 & 28-29
Ticonderoga, N.Y.
- Discover the unexplained past at Fort Ticonderoga's Flashlight Nights, Fridays and Saturdays, October 21 and 22 and October 28 and 29 from 7 pm until 9 pm.  This family-fun fall program will uncover Fort Ticonderoga's layers of history and haunted stories at night in the Fort, on the landscape and in the 6-acre corn maze! Hear the story of Fort Ticonderoga inside the stone walls of the fort then use your flashlight to guide your way to the Heroic Corn Maze where a multitude of twists and turns through acres of corn stalks await!  The nighttime tours of the Fort will be led by costumed historic interpreters and will allow guests to enter areas of the fort where unexplained events have occurred. The tour offers historical context to the many ghostly stories that are part of Fort Ticonderoga's epic history.   If visitors have an even greater appetite for exploring Fort Ticonderoga at night, they can continue their tour as they find their way by flashlight to the Heroic Maze, a six-acre corn maze located near the fort's historic Garrison Garden. The Heroic Corn Maze offers visitors the opportunity to navigate through the six-acres of corn stalks at night. Will the unexplained and ghostly past find you in the maze?  Bring your flashlight and find out! Tickets are $15 for adults and $10 for children 12 years and under. To guarantee a ticket, reserve a space for this special program by calling (518) 585-2821 or visit the Museum Store
(The store is open until October 20).
Gates open at 6:30 pm and tours begin at 7:00 pm, October 21 and 22 and October 28 and 29.  Tickets are also available at the door the evening of the event between 7:00 pm - 9:00 pm. No exchanges or refunds allowed. The event is a rain or shine event. Beverages and concessions will be available for purchase. Proper footwear will be needed to navigate the uneven terrain. Bring your own flashlights. Flashlights required. Visit
http://www.fortticonderoga.org/visit/heroic-maze
for more details.
FORT TICONDEROGA
America's Fort
Located on Lake Champlain in the beautiful 6 million acre Adirondack Park, Fort Ticonderoga is a private not-for-profit historic site and museum that ensures that present and future generations learn from the struggles, sacrifices, and victories that shaped the nations North America and changed world history.  Accredited by the American Association of Museums, Fort Ticonderoga offers programs, historic interpretation and tours, garden tours, demonstrations and exhibits each day from 9:30 am - 5 pm, May 20 - October 20. The 2011 features
The Art of War: Ticonderoga as Experienced through the Eyes of America's Great Artists
exhibit highlighting the Fort's extensive art collection by some of America's greatest artists. A full schedule and information on events can be found at
https://mail.fort-ticonderoga.org/exchweb/bin/redir.asp?URL=http://www.fort-ticonderoga.org/
or phone (518) 585-2821. Fort Ticonderoga is located at 100 Fort Ti Road Ticonderoga, New York.                                    
###
Further Information Contact:
                                                                                                                                                         Beth Hill - 518-585- 2821                                                                            
bhill@fort-ticonderoga.org