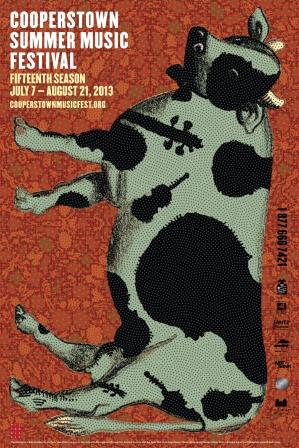 Free concert August 1 at the Otesaga Hotel features talented young flutists
Cooperstown, N.Y.
- The Cooperstown Summer Music Festival will present Flute Fest at the Otesaga on Thursday, August 1 at 7:30 pm. The concert, which is free and open to all, will feature the flute choir from the NY Summer Music Festival's prestigious International Flute Institute. Several of the Institute's instructors also will perform, including Festival artistic director and flutist Linda Chesis and:
Paul Edmund-Davies, who was Principal Flute of the London Symphony Orchestra for 20 years and now tours worldwide, giving recitals, classes and performing
Hyuncheong Park, an active performer in Korea, who is a music director of Ensemble NORI, a member of BeautiFL Mozart and a faculty member of Chongshin University, Hanse University and Mokwon University
Juhee Kang, an IFI alum who studied with Linda Chesis at the Manhattan School of Music
The concert is the culmination of two weeks of intensive study. The winner of the Institute's Concerto Competition also will perform. "The Flute Fest is a Festival tradition," says Ms. Chesis, who is the founder and artistic director of the Festival. "We're glad to offer this free performance for all to enjoy." She noted that children are very welcome to attend. The Flute Fest will be held in the ballroom of the Otesaga Resort Hotel, 60 Lake Street in Cooperstown. No reservation or ticket required. Starting at 7 pm, there will be a free make-your-own flute craft for children.
Festival continues with four classical concerts and an evening of  jazz
In addition to the Flute Fest, the Festival's 15th season features two concerts at the Otesaga Hotel in Cooperstown:
REBEL Baroque Ensemble
Sunday, August 4 at 3 pm, and
Jazz with vocalist Hilary Kole
Sunday, August 11 at 7:30 pm.  The Festival also presents three Wednesday evening (7:30 pm) concerts at The Farmers' Museum in Cooperstown:
Vienna 1: The Imperial City
August 7,
Vienna 2: A Tradition of Innovation
August 14, and
the East Coast Chamber Orchestra
August 21. For more information, call 877/666-7421, visit the Festival's web site,
http://www.cooperstownmusicfest.org/
, or email
info@cooperstownmusicfest.org
. Tickets are not required for Flute Fest, which is free and open to all. Tickets to other Festival concerts ($25 for adults, $15 for students) can be ordered online,
http://www.cooperstownmusicfest.org/
, by calling the box office service Brown Paper Tickets, 800/838-3006, or purchased at the door, as available.
###
Media Inquiries: contact Peg Odell, 877/666-7421,
odell5@stny.rr.com