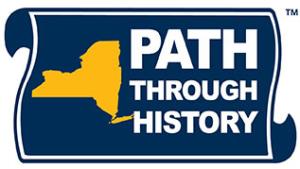 Personalized Itineraries & New Bike Paths Now Available
July 20, 2017, Rome NY — History in the Mohawk Valley has never been more alive, and now it's easier than ever to experience historic battlegrounds and striking monuments while traveling through scenic New York.
New bike paths are available on the Mohawk Valley Path Through History website, www.BikeThruHistory.com. Cyclists can now easily navigate to culturally-significant destinations within several local counties, including Oneida, Herkimer, Otsego, Fulton, Montgomery, Schoharie, and Saratoga. More than thirty bike paths are offered, featuring turn-by-turn directions, printable cue sheets, downloadable app information and GPS tracking. Cyclists can view their current location directly from the website, and the majority of the bike paths can also be driven.
"Biking has become a wonderful recreational as well as wellness activity, and the City of Rome is pleased to participate with New York State in the Mohawk Valley Path Through History website," said Mayor Jacqueline M. Izzo. "The website allows bikers to create a personalized bike route, use GPS mapping, learn about historic battlefields and sites along the way, and much more. With our extensive trail system, we hope that our many biker friends take advantage of the website when planning their next excursion through the Mohawk Valley."
Gavin Landry, Executive Director of Tourism for Empire State Development, said, "Since its establishment in 2012, New York State's Path Through History program has encouraged visitors to learn about the people and experience the places that helped to establish and shaped our state. The Mohawk Valley Bike Through History initiative is a unique and creative effort that invites cyclists to utilize more than 30 bike paths to visit the historic destinations across seven different counties. I would encourage everyone to plan a trip and visit our many Path Through History attractions."
This project was funded by a grant from Empire State Development's I LOVE NEW YORK program through the Market NY initiative, with support from the Workforce Investment Board of Oneida and Herkimer Counties, the Horn Foundation, and local tourism destination marketing organizations. The paths themselves were developed by the NY Bicycling Coalition, and the website was created by Brockett Creative Group.
The Mohawk Valley Path Through History website includes additional themed itineraries featuring destinations across Central NY focused on Native Americans, the colonial era and the Revolutionary War.
Fort Stanwix Superintendent Frank Barrows said, "The Bike Through History Program opens up new opportunities for visitors to Fort Stanwix. The program connects visitors to resources outside of the fort boundaries and helps them to understand the importance of waterways, transportation, and geography as it relates to the history of Fort Stanwix."
Travelers can design their own personalized itineraries and share them with friends after creating a free MyPath account. Fun facts about local history are also featured on the website, as well as news about upcoming events.
This summer is the perfect time to hit the road and experience the monuments, battlefields, and picturesque countryside right here in America's First Frontier. Forge your Path Through History today at www.MohawkValleyHistory.com.
###
Contact:
Kelly Blazosky
Oneida County Tourism
315-624-7144