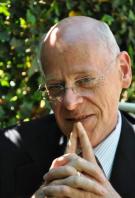 Part of Museum's 50th Anniversary Celebrations
Glens Falls, N.Y.
-  Frederick J. Fisher, former director of The Hyde Collection from 1978 to 1989, will speak in honor of the Museum's 50
th
anniversary on Sunday, April 7, 2013 at 2pm in the Froehlich Auditorium. His lecture,
Memories of an Earlier Hyde
, will offer a candid perspective on the museum during his tenure. This program is free with museum admission.         During his directorship, Mr. Fisher reorganized the Museum's operational structure and initiated numerous programs, including lectures and concert series. Among the highlights of his tenure were the publication of the first Hyde Collection catalogue and the completion of a major capital campaign that resulted in the construction of the Education Wing, a 14,000 square foot facility designed by architect Edward Larabee Barnes. The Education Wing linked two of the Museum's historic buildings and provided exhibition galleries, an auditorium, art studio, and art storage space, which transformed The Hyde Collection into a modern museum complex. After leaving The Hyde, Mr. Fisher served for twenty years as the executive director of the Hillwood Estate, Museum & Gardens until his retirement in July 2010. Located in Washington D.C., it was the home of the collector, philanthropist, and heiress Marjorie Merriweather Post and contains the most comprehensive collection of Russian Imperial art outside of Russia. Open captioning for the hearing impaired will be provided during this lecture. The Hyde Collection has received a grant from the Theater Development Fund's TAP Plus program, in partnership with the New York State Council on the Arts,  to provide this service during the 2013 Lecture Series.  The Theater Development Fund's TAP Plus program provides grants for open captioning services to increase accessibility to cultural events for those who are deaf or hard of hearing. Open captioning provides live captioning in real time. This program is part of The Hyde's year-long anniversary celebration and is in support of our current exhibition
50 at 50: Five Decades of Collecting at The Hyde
which runs now through April 14, 2013. Featuring works of art acquired by the Museum since the death of Charlotte Pruyn Hyde (1867-1963) in 1963, the exhibition features a selection of works that enhance the legacy of the collection formed by her and her husband Louis Fiske Hyde (1865-1934). For additional information, contact Alice Grether, Director of Marketing & Communication, at 518-792-1761, ext. 328, or
agrether@hydecollection.org
. 
The Hyde Collection is a historic house and art museum complex with a distinguished collection consisting of works by American and European artists such as Botticelli, Rubens, Rembrandt, Picasso, Homer and Eakins, as well as important decorative arts and antique furnishings. The Museum provides changing exhibitions in two gallery spaces, lectures, concerts, family activities and school programming. For information, visit
www.hydecollection.org
or call 518-792-1761.