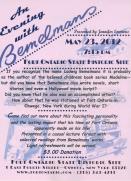 Beloved Author of 'Madeline' Books Was Stationed at Fort Ontario during World War I
Oswego, N.Y.
-
"In an old house in Paris that was covered with vines lived twelve little girls in two straight lines."
Do you recognize this passage as the opening lines to every
Madeline
book in the classic children's book series? If so, you've already been exposed to the writing of one of the most interesting personalities in literature and art during the mid-20th century.  Ludwig Bemelmans will be the subject of "
An Evening With Bemelmans
" at Fort Ontario State Historic Site Wednesday, May 23, in the Enlisted Men's Barracks. The program, to be presented by Fort Ontario curator Jennifer Emmons, will begin at 7:15 pm.  A donation of $3 per person is suggested and light refreshments will be provided.  While many people may recognize the name of Ludwig Bemelmans as the author of the beloved children's book series,
Madeline,
very few know that he also wrote books for adults, at least one Hollywood movie script, and was known as an accomplished painter on the Paris and New York art scene as well.  Fewer still know of his connection with Fort Ontario and the city of Oswego, the primary focus of "
An Evening With Bemelmans."
   "This period of his life is usually glossed over as 'He enlisted in the US Army in 1917' in most of the autobiographical blurbs on the sleeves of his books; however, research and his own tales of life at Fort Ontario suggest that his stay in Oswego played an influential part in contributing to the author who would be loved by millions," said Emmons.  Fort Ontario State Historic Site is located at the north end of East Fourth Street in the City of Oswego.  For more information on the May 23 program or Fort Ontario, contact Jennifer Emmons at [
Jenny.Emmons@parks.ny.gov
].
###
Contact:
Jennifer Emmons, Curator (315) 343-4711