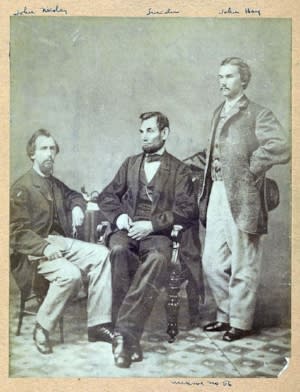 Special Program on Lincoln's Private Secretary, John G. Nicolay -
Oswego, N.Y.  – History buffs have a rare opportunity to learn about President Abraham Lincoln's private secretary John George Nicolay Wednesday, Aug. 23, when Civil War historian and Oswego native Tom Ebert presents a free lecture at Fort Ontario State Historic Site. The program begins at 7 p.m. in the Enlisted Men's Barracks at old Fort Ontario and is open to the public.
Ebert and Allen Carden are co-authors of "Full Measure of Devotion, Lincoln's Private Secretary John G. Nicolay," scheduled for publication early next year. While Nicolay's 83-year-old daughter published an uncritical and undocumented biography of her father in 1949, Carden and Ebert's 403-page book will be the first professional biography published on Nicolay (1832–1901), and represents a significant contribution to Lincoln scholarship.
"Nicolay played a central role in the Lincoln administration, but was one of those important figures in history who lived under the radar of public notice," said Fort Ontario State Historic Site Superintendent Paul Lear.
Born in the Rhenish Palatinate, Nicolay spent most of his early life in frontier America as a newspaper publisher and came to Lincoln's attention while serving as a young clerk in the Illinois Legislature. Nicolay became a trusted intermediary for Lincoln who subsequently appointed Nicolay as his secretary to handle the growing volume of correspondence during the 1860 presidential campaign. Upon his election as President, Lincoln appointed Nicolay as his private secretary in the White House, where he served during the entire administration as the first de facto White House Chief of Staff.
"Previous men in Nicolay's position had primarily functioned as gatekeepers to the President, but Nicolay found it necessary to become office manager, legal assistant, spokesman, emissary, and general jack-of-all-trades based on increased demands on the President and the demands of the Civil War," noted Lear.
Nicolay was devoted to Lincoln and it became his singular purpose to support him in any way he could during the President's lifetime; together with his life-long friend John Hay, who assisted him in his White ouHoHouHouse duties. After Lincoln's assassination, Nicolay and Hay helped preserve and shape Lincoln's image for posterity. With the cooperation of Lincoln's son, Robert Todd Lincoln, Nicolay and Hay produced a monumental 10-volume 4,800-page biography of Lincoln, as well as other works, for which Nicolay was the primary contributor, researcher, and principal editor.
"As such, Nicolay provided future generations with extensive insights into Abraham Lincoln and his life and times," said Lear.
Ebert is a native of Oswego who resides in California. He holds master's degrees in History and Library Science and is a major contributor to the book "Freedom's Delay: Emancipation in American 1775-1865," by Dr. Allen Carden, published by the University of Tennessee Press.
Ebert has presented several well-received local talks on a variety of Civil War subjects, including Oswego's 147th New York Volunteer Infantry Regiment, conducting Civil War genealogical research, myths about slavery, and has compiled an Ebert-McGrath family genealogy, a three-volume documentary history of the 147th New York Infantry Regiment, and an annotated brief history of Oswego's 184th New York Infantry Regiment. He has also appeared on C-Span.
Fort Ontario State Historic Site is located at the north end of East Fourth Street in the city of Oswego and there is free parking is available.
Those with questions about the program, or who need to make accessibility arrangements to park closer to the old stone fort, are asked to contact Paul Lear at (315) 343-4711 or Paul.Lear@parks.ny.gov.  
New York State Parks generates $1.9 billion in economic activity annually and supports 20,000 jobs. For information on any of these recreation areas call (518) 474-0456; visit www.nysparks.com or www.fortontario.com; connect on Facebook; or follow on Twitter.
For more Oswego County history and visitor information, go to www.visitoswegocounty.com or call (800) 248-4FUN.
-30 –
Photo caption:
Civil War author and Oswego native Tom Ebert will lecture on his upcoming book, "Full Measure of Devotion, Lincoln's Private Secretary John G. Nicolay," Aug. 23 at Fort Ontario in Oswego. From left to right are John G. Nicolay, Abraham Lincoln, and John Hay. November 8, 1863. Alexander Gardner Image. Library of Congress Collection.
-30-
CONTACT: Paul Lear: (315) 343-4711; [Paul.Lear@Parks.ny.gov]