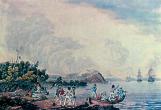 Oswego, N.Y.
- Commemorate Armed Forces Day, May 18,
by coming to Fort Ontario State Historic Site on our seasonal opening day and attending a walking tour of the Post Cemetery. The Post Cemetery presents a cross section of those who served and died at Fort Ontario from the French and Indian War through World War II; it contains the bodies of 77 individuals, including soldiers, officers, wives, children and one soldier's mother. Fort Ontario Curator Jennifer Emmons will conduct the tour which will begin at 1 p.m. at the north parking lot overlooking the lake. This year marks the third year that a cemetery tour has been offered to share Emmons' research findings with the community; new research material is incorporated each year. "Often people try to avoid thinking about their own demise; however, when one loses someone close or experiences community tragedy such as we have seen in the national news recently, and the loss of four local soldiers in Afghanistan last year, it can cause us to contemplate just how long others will remember us after we are gone," said Emmons. "Sadly, as little as ten years ago most local people with a few exceptions remembered the 77 people interred in the Post Cemetery. Names and dates could still be read on their headstones, but, from a historical standpoint, that was all the information anybody had as to who they were. Gradually, after nearly eight years of research, the stories behind many of the names on the tombstones have become to emerge." A donation of $5 per person is suggested which will be used to support Friends of Fort Ontario's programming and restoration efforts.  Appropriate footwear and clothing is recommended, air temperatures are generally lower and winds stronger by the lake. Fort Ontario State Historic Site is located at the north end of East Fourth Street in the City of Oswego.  For more information on the May 18
program or Fort Ontario contact Jennifer Emmons at [
Jenny.Emmons@parks.ny.gov
].
###
Graphic Caption
:  Evacuation of the British wounded at the Battle of Oswego, May 6, 1814, by Captain Steele.   The British lost 19 soldiers and sailors in the attack on Fort Ontario in 1814, their bodies were buried in an unmarked grave towards East Tenth Street which has never been found.  Hundreds of soldiers and support personnel died in combat or of disease at Fort Ontario from the French and Indian War through the War of 1812, their bodies were interred in unmarked graves and cemeteries around the fort and have been lost to time, some may await discovery in east side backyards.  The 77 bodies in the Post Cemetery came from the one known cemetery moved from the main baseball diamond area in 1902, and those found scattered around the military reservation between the old fort and Schuyler and East 9
th
 Streets during construction of the new post in 1902-05.  
CONTACT:
Jennifer Emmons Fort Ontario SHS, Curator (315) 343-4711
Jenny.Emmons@parks.ny.gov