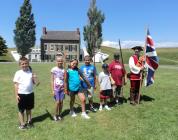 Oswego, N.Y.
- Fort Ontario State Historic Site is pleased to announce the return of its popular Summer Youth Program for youth ages 8-16. Last year over 100 youth participated in 18
th
and 19
th
century games, sports, military drill, wilderness tactics, martial arts and many more activities in a unique program which is designed to connect kids with local history through physical activity. The program is coordinated by AmeriCorps members Ian Mumpton and Steven Woods with assistance from the Friends of Fort Ontario, Oswego County AmeriCorps, and New York State Parks. "The kids have a lot of fun with all kinds of activities-," said Mumpton, "stilt races, tug of war, games like bat and trap and croquet. They also get the chance to re-enact historical situations such as sending out scouting patrols, learning how to march and drill with wooden muskets, and building simple fortifications. They have a blast and learn through hands-on activities." Said Woods, "This is the history that happened in their back yards, literally in many cases. This program gives kids the opportunity for an up close and personal look at life in the 18
th
and 19
th
centuries at Fort Ontario. It's really a unique opportunity."  The program will feature weekly sessions for a variety of age groups starting July 9 and running until Aug. 24. There is no fee to attend, but pre-registration is required. No electronic devices (portable music players, game systems, etc...) are allowed at the program. Registration opens Monday, May 7. Information on available sessions and registration is available on the fort's website,
http://www.fortontario.com/
or by emailing
FOSummerProgram@gmail.com
.
Photo caption
: Children practice military drills at Fort Ontario State Historic Site in a unique program coordinated by Oswego County AmeriCorps members Ian Mumpton (right) and Steven Woods. To register, visit
http://www.fortontario.com/
or e-mail
FOSummerProgram@gmail.com
.
Contact
: Janet Clerkin Oswego County Tourism and Public Information Coordinator 315-349-8324
http://www.visitoswegocounty.com/