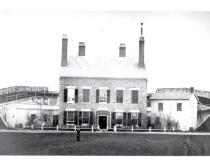 Oswego, N.Y.
- On October 15 - 16, the last weekend of Fort Ontario's operating season, the Friends of Ontario will hold a year end sale of fort t-shirts, sweatshirts, mugs, toy muskets, historic puzzles, toy soldiers, and many other souvenirs and memorabilia.  This would be an ideal time to visit the fort and do some early holiday shopping while supporting Oswego's great national landmark.   Regular admission prices will be charged for those wishing to tour the fort, children 12 years of age and under are admitted free. Soon after the fort closes staff and contractors will begin repairing and replacing broken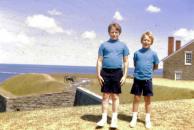 drain lines and link the fort's new historically accurate rain gutters into the main storm-sewer system.  Other winter projects include replacing the furnace in the Enlisted Men's Barracks and improving electrical services to the fort's underground casemates.  Although funding is not yet available for installation, a team composed of State Parks engineers, architects, and historic preservation specialists will examine the two 1843-44 officer's quarters at Fort Ontario for the purpose of designing heating and air conditioning systems. These efforts are part of the most comprehensive infrastructure improvements to occur at Fort Ontario since 1968. Friend's volunteers will also begin fundraising efforts to replace the fort's hurricane damaged flagpole with a more historically accurate version by the bicentennial of the Battle of Oswego in 2014.  Ghost Tours will be rescheduled for next spring to make way for project work this fall, check the Friends of Fort Ontario website for updates and the 2012 Calendar of Events [fortontario.com].  Fort Ontario State Historic Site is located at the north end of East 4
th
Street in the City of Oswego; public hours are Wednesday - Sunday, 10:00 AM - 4:30 PM, from now until October 16
th
.  The fort will be open on the Monday Columbus Day holiday.  For more information contact Historic Site Manager Paul Lear at (315) 343-4711 or [Paul.Lear@oprhp.state.ny.us].
###
Contact
: Paul Lear Historic Site Manager (315-343-4711)